PixelRange Adds Visual Twist to Glastonbury Stages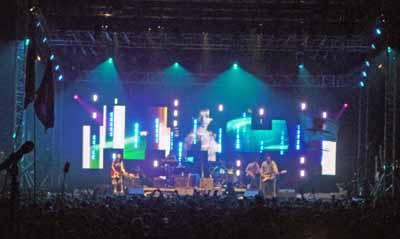 GLASTONBURY, U.K. — This year's Glastonbury festival showcased an ample assortment of PixelRange products, from Blur's headlining performance on the main stage to the more eclectic stages across the large festival site. The Dirty Boots stage was designed as a "plug and play" stage, where artists come in and use the house drum kit, amps and keyboards with their own guitars. The stage featured six PixelLine 1044s, four PixelPars as front lighting and four PixelLine Micros to light the banners.
"With a small stage — 6m by 4m — and over 60 bands to light, many in the daylight, I needed a lighting rig that would continue to be innovative and different," said LD Neil Scrivener. "Whilst moving lights would have been most people's obvious choice, they wouldn't have done anything in the daylight. Power was also an issue, so LED was the most logical and perfect solution."
"The Pixel fixtures did a fantastic job squaring up to the daylight and working alongside the other fixtures on the rig," Scrivener added. "In fact, even during the day, I had to run the PixelLines at 50 percent, which soon became nearer to 10 percent during the evening, and they were still extremely bright."
Cate Carter and DPL Production Lighting's Pete Watts designed the John Peel stage. "I specified a large amount of LED for this stage, as I wanted to show that you can use LED as a lighting product to light artists, also as an effect — and as a video product mixed in with other video products," said Watts.
"For artist lighting I specified PixelPar 90s to provide all of the side light at high level which is very important for televised shows, as a large number of camera shots come side on from below the artist, and without light from the right direction it can look flat," Watts continued. "The great thing about PixelPars is that the quality of the beam is the same as a PAR can, so you can get big punches of color through, even across a 20m stage."
PixelLine 110s provided additional backlight and sidelight effects, and five PixelMax Washes made their festival debut. "I really like the PixelMax Washes ability to spread the beams so you can effectively light the top, middle and bottom of a wall with different colors," said Watts, who used them for color washing, blinders and strobing.
Behind 12 video panels hung at different heights, a mixture of PixelLine 110s and PixelLine Micro Effects were installed on vertical scaff poles. This created another video medium for the content, expanding the effective area as and when required. It also allowed the PixelLine to act as a second video product playing different content to the video panels and to produce 3D effects along with standard lighting effects such as color washes and strobes.
Watts, who was also the LD for Jazz World, used IP65 outdoor-rated PixelArcs to light side banners in area 1 and more PixelLine 1044s for cyc washes and effects for area 2, quickly creating another variety of looks.
For more information, please visit www.pixelrange.com.
Leave a Comment: