Posted Video Shows Scaffolding Collapsing During Concert in China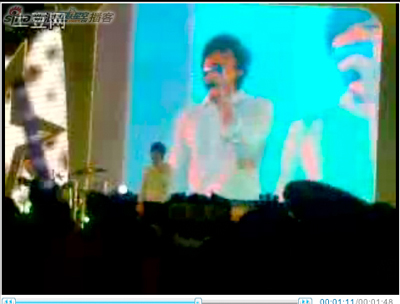 GUANGZHOU, China — A video posted on the Web site, ChinaMusicRadar.com, showed Taiwanese singer Pan Yuwen performing onstage, adjacent to a multi-tiered scaffolding structure supporting lighting and audio gear. The video captures the sudden loss of power to the I-Mag and other stage elements, followed by chaos as the scaffolding adjacent to the stage falls over the crowd. Coverage of the event by established media outlets was minimal, and rumors of as many as 10 deaths, including that of the performer, who is also known as Peter Pan, soon circulated the blogosphere. To add to the confusion, quotes initially attributed to a Pepsi spokesman were said to be false and removed.
Pepsi and Chime-Long Paradise, the amusement park where the concert took place, reportedly issued a release on the chain of events, six days after the live July 18 "Pepsi Voice of the Next Generation" event was staged, saying that only minor injuries were sustained.
Typhoon Molave hit Southeast China's coast that night, and the video depicts high winds and rain hitting the scaffolding.
"At the Pepsi battle of the bands concert on the evening of 18 July in Guangzhou, due to the sudden early arrival of the typhoon, the concert was stopped abruptly," the release reportedly said, in a statement attributed to Pepsi spokesman Harry Hui.
"During Taiwanese singer's Peter Pan performance on stage, the weather worsened dramatically with torrential rain and wind. As the host was announcing that the concert was to be terminated, telling everyone to leave the stage and the venue, the LED on the stage was blown over by the strong wind. Peter Pan was pulled away by CETV staff. Pan suffered a minor injury to his hand, while a staff member from CETV also sustained a head injury."

The statement added that while some people were taken to a local hospital, another concert was staged as scheduled on July 19 at the Shenzhen Convention Centre and included Pan in the lineup of performers.
The video was posted at http://www.chinamusicradar.com/?p=620.
Leave a Comment: