Production Services Ireland Manages Three-Gig Weekend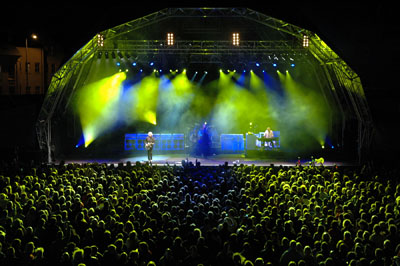 BELFAST —Northern Irish lighting rental company Production Services Ireland had a busy Bank Holiday weekend, servicing three major events — a gig for the Yeah Yeah Yeahs in St. George's Market, a three-day Belsonic Festival staged at Customs House Square and "Live at the Castle" in Carrickfergus. The Yeah Yeah Yeahs
PSI supplied all lighting for this show, which was promoted by CDC Leisure and completely sold out. They worked to a spec from the band's lighting designer Lucas Cotterman.
The rig consisted of a front and back truss loaded with PARs used to provide all the basic stage washes, which were augmented with beams-work, effects and texturing from 14 moving lights — six Robe ColorWash 700E ATs and eight Robe ColorSpot 700E ATs. Eight PixelPARs were added, attached to floor booms, for low level cross stage lighting.
One of the challenges of the gig included a low ceiling height which was just 12 feet from the stage and 15 feet from the floor, so the back truss had to be installed on scissor lifts while the front one was flown from the building's structural beams.
PSI supplied a Jands Vista T2 as control for the support acts and a WholeHog 3 for the Yeah Yeah Yeahs.
Belsonic 2009
This event was launched last year by local club promoters Shine and was a success, so PSI was invited back as a technical supplier for the second year. Headliners this year included Dizzee Rascal, Vampire Weekend, 2 Many DJs, Dead Mouse, Duke Special and the Magic Numbers.
It was a dynamic lineup including an assortment of musical genres, from dance/rap/R'n'B to indie rock. Many artists also didn't have specific lighting specs or LDs, so PSI's Sean Pagel created a generic production design which was as flexible as possible to cover all eventualities and suit different styles of operation.
This was flown on four overstage trusses, sub-hung from the Star Events SAM stage/roof. There were two additional drapes trusses, one upstage for backdrops and one mid stage for masking the front half whilst headliner's backlines were set up.
For moving lights, Pagel used 18 Robe ColorSpot 700E ATs and 18 ColorWash 700E ATs. "This was more than enough to give plenty of variation," he said. On the front truss they used six Robe ColorSpot 250E ATs for band specials instead of profiles.
The only generics on the rig were Molefeys. They were positioned as five 4-lites a side on the two front legs of the stage; six 8-lites on the front truss for blasting into the audience and 10 2-lites on the mid truss for a peppering effect.
On the floor were six Robe ColorSpot and ColorWash 700E ATs, which could be used as needed by the band line up and available space. The PA scrims were up-lit with two Studio Due CityColor 1800s.
For control PSI supplied an Avolites Diamond 4 Vision console, which was run by PSI's Joe Byrne for those bands not bringing their own control or LD/operators.
Live at the Castle
Ensuring that there was live music on hand to cover pretty much every taste and persuasion over the bank holiday period, CDC Leisure produced this new two-day event headlined by Jools Holland and his Rhythm & Blues Band and Status Quo respectively, located next to the beautiful backdrop of the castle.
PSI hung their lights onto the Serious Stages Orbit roof, and Sean Pagel worked closely on a design based on Status Quo's spec with their long standing LD, Patrick Marks.
It included 28 Robe ColorSpot 700s and 12 ColorWash 700 moving lights rigged on four over-stage trusses. There was also a front truss with PARs, profiles and eight 8-lites.
Pat Marks brought his own grandMA console for control, and Pagel ran all the other band's lighting on an Avolites Diamond 3.
Says PSI's Pagel, "Our aim at these events is always obviously to keep the crowd entertained and the promoter content along with the all-important job of keeping the touring designers happy, and any hassle factors to a minimum. Patrick Marks commented that this was one of the best gigs of the whole tour."
Despite the need for so much gear dispatched to multiple locations at the same time, all went smoothly. It also served as a warm-up for the following weekend, which was just as busy with PSI involved in Electric Picnic and Planet Love, two festivals running on the same dates.
For more information, please visit www.productionireland.com.
Leave a Comment: