PufferSphere Planets Align for Eurovision 2009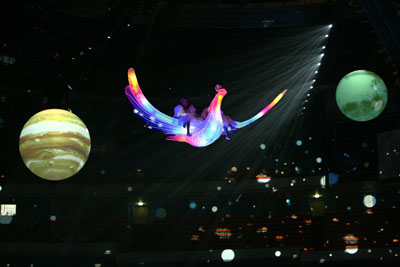 MOSCOW —Eurovision 2009 set records for the annual song contest in terms of LEDs, pyrotechnics and lighting, and Procon Event Engineering GmbH added to the visual interest with six Pufferfish PufferSpheres, making their first Eurovision appearance above a crowd of 16,000 at Olympiyski Stadium. Pufferfish PufferSpheres are two-meter-diameter inflated and internally projected spherical displays. The semi-final opened with the PufferSpheres lowered from the rafters as giant planets in a starry night sky, through which a glowing Thunderbird soared.
During the acts, the spheres were raised to allow clear sightlines to the stage. From there they displayed visuals complementing each stage set. Between acts they displayed digital messages, introducing each nation to the audience.
The Eurovision crew used six Hippotizer V3 HDs distributed through a matrix, overseen and cued by a grandMA console to control the content. The event was overseen by Procon project manager Ola Melzig, and the spherical displays played a role in his overall objective for this year's Eurovision visuals: to "blow people's minds."
For more information, please visit www.pufferfishdisplays.co.uk.
Leave a Comment: