RC4 Wireless Wins ABTT Lighting Product of the Year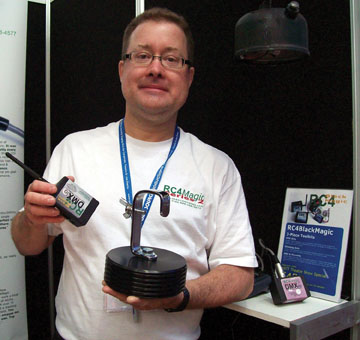 LONDON —RC4 Wireless has been awarded Lighting Product of the Year by the Association of British Theatre Technicians (ABTT) for their RC4BlackMagic wireless DMX and dimming system. Pictured here is James David Smith, president and chief product designer at RC4, with the ABTT trophy and the RC4BlackMagic product. "We are particularly flattered by this award because of the nature of the voting process," Smith said. "The ABTT is a small organization of in-the-trenches theatre people — electricians, carpenters, lighting and sound personnel — who make live theatre tick in the U.K. There are no nominations for ABTT awards, Smith added. "All you need is a great new product on display at the ABTT Theatre Show."
While presenting a pipe-clamp trophy to Smith, in a formal ceremony, the chairman of ABTT, Mark White, noted that all the judges had returned from the show with RC4 Wireless on their lists.
"Everyone was impressed with the incredibly small size of RC4 dimmers, and the very reasonable cost of the system," said White.
The RC4BlackMagic is a revision of the RC4Magic series, featuring
improved protection against dimmer overloading and overheating, according to Smith.
"Our larger dimmers have been well protected for years — we've been doing this since 1991 — but we struggled with ways to reliably squeeze all that power circuitry into a very small space. Now, with RC4BlackMagic, even the tiny little DMX2dim and DMX4dim are fully protected."
The ABTT show in London marks the first time RC4 Wireless has exhibited outside North America. Along with its North American customer base, the company also has customers in England, Ireland, Switzerland, Germany, Spain, Japan, China, Australia, Brazil, Mexico and elsewhere around the world.
The RC4Magic system meets RF and electrical regulatory requirements for most countries in the world, including CE compliance for Europe.
For more information, please visit www.theatrewireless.com.
Leave a Comment: