Retired White Light Console Put to Work for Sweeney Todd in Lithuania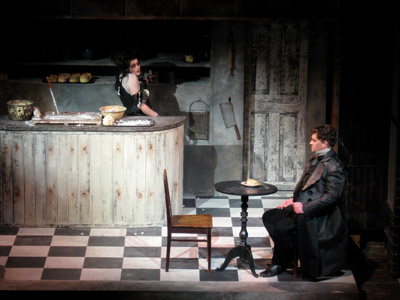 VILNIUS, Lithuania — White Light and theatre owner ATG have been phasing out the Strand 500-series lighting consoles used for ATG's U.K. venues, replacing them with ETC's Eos and Ion consoles. But if the plan called for the older consoles to be used for rentals and parts, at least one of the units has been put to full-time work again for a Lithuanian production of Sweeney Todd. Peter Mumford, LD for the production, staged by Bohemieciai, a new opera company that is part of the Lithuanian Philharmonic Orchestra in Vilnius, instigated the donation, and the unit made its way to Lithuania via programmer John Tapster, who added the refurbished 530 to his airline baggage.
Once in Vilnius, the console went straight into technical rehearsals for Sweeney Todd at the Congress Rumas, directed by the company's director/producer Dalia Ibelhauptaite, designed by Dick Bird with lighting by Mumford and sound by Colin Pink.
There it joined the many other evolutionary improvements Mumford has been leading as he's been lighting shows there.
"Each time that I've worked there, I've managed to add extra bits of equipment and new lighting positions and extensions to the grid. It's not an easy venue, very wide stage and not that deep, but a lot of imagination all round have achieved some pretty extraordinary results."

For Sweeney, Tapster programmed the show while teaching the local crew how to use their new console — to the delight (and bemusement) of the lighting designer:
"The new board was a triumph, and I am very pleased with the look of the show," Mumford said. "Having lit three operas out there on their old console it was such a relief to be able to improve things by a hundred-fold in terms of our working methods. This one was a joy, and the crew all think that John Tapster is a 'wizard' — a Lithuanian legend I shall do my best to sustain."

"We were happy to be able to help with this," said White Light's managing director, Bryan Raven. "Despite newer consoles being available, the 500-series are still popular workhorses that can find appreciative new homes rather than being consigned to the scrapheap, something we're always endeavoring to achieve as part of our efforts to be as 'eco-friendly' as possible."

For more information, please visit www.whitelight.ltd.uk.
Leave a Comment: