Robe DigitalSpots at Grand Opening for Swisspor Building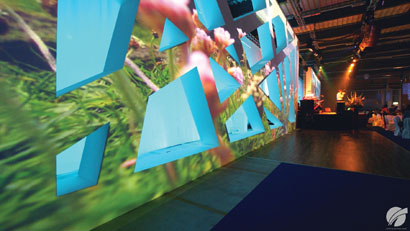 STEINHAUSEN, Switzerland – Matthias Kern of kernfusion design GmbH used four Robe DigitalSpot 7000DTs in his design for a show for the grand opening of a new building at the headquarters of Swisspor. Swisspor, which makes insulation and sealing products for the construction industry, celebrated the opening over two evenings, with a gala dinner followed by live entertainment from the Pepe Lienhard Orchestra each night. The events, which made use of a stage set up in one of the new facility's production halls, were attended by up to 1,000 guests.
Kern was responsible for the lighting and media design, operation and programming for the event. He was brought in by Zurich based Trendix Event Management, which produced the event.
Kern positioned two DigitalSpot 7000DTs on each side of the stage to throw projections onto two angular 15-meter Styrofoam structures flanking the stage.
Fitted with standard objective lenses, the DigitalSpot 7000DTs were rigged on a truss 14.5 meters away, each pair with their images horizontally soft-edged together to cover the full size of the wings. Kern then built and applied software masks to Layer 1 of the fixtures so all the content was fitted exactly to the front sides only of the Styrofoam strands. The walls beyond were lit with generic floor lights. Combined with the precisely projected images, this produced a dynamic 3D effect.
Kern used a mix of content pulled from the DigitalSpot's onboard library plus some of his own that was specially created for the show.
The DigitalSpots were run via ArtNet, and Kern controlled these and all the lighting fixtures from a Compulite Vector Blue console.
Kern has used DigitalSpots before, most notably on the 2009 Conelli Circus season in Zurich and also for architectural schemes and TV shows.
For more information, please visit www.robe.cz.
Leave a Comment: