Robe Gear Used for Stock Car Crash Challenge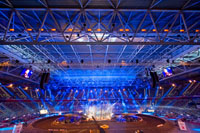 DUSSELDORF, Germany — Lighting designers Andreas Ellmerer and Thomas Brügge used nearly 180 Robe ColorSpot 1200E ATs for "TV Total Stock Car Crash Challenge," a show staged at the LTU Arena that featured the car-racing skills — and aggression — of celebrities from the music, TV and sporting worlds. Ellmerer and Brügge's Cologne-based company, Cape Cross Studio & Filmlichtgesellschaft GmbH, supplied the lighting equipment for Brainpool, the show producers. The race, staged before an arena audience of more than 40,000 viewers, was recorded and broadcast on Germany's Pro 7 TV network.
Of the 177 ColorSpot 1200E ATs, 40 were placed in the pit lane of the track, 72 were on a stage in the middle of the track mounted on the floor and 72 more were mounted on truss in the ceiling of the indoor venue.
Arkin Atakan used two grandMA full size consoles to control the Robe gear and other moving lights. One desk drove the show and effects lighting; the other controlled all the white light sources.

Cape Cross' Robe inventory has grown steadily in recent years. "The Robes keep working constantly," said Ellmerer. "We like the gobos, and use all of them including the extra set that is supplied with the units. The features, functionality and brightness of the units is second to none. But most important for any busy rental house, it is the reliability that really counts."
He added that often they are rigging fixtures in inaccessible places for a show or a TV shoot, so it was vital to have moving lights that wouldn't break down. Their Robes have proved so rugged and robust that Cape Cross "hardly needs spares."
For more information, please visit www.robe.cz.
Leave a Comment: