Robe Lights Up Party for 5,000 in Slovenia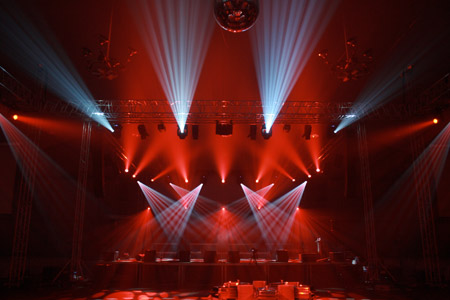 LJUBLJANA, Slovenia — Over 5,000 revelers attended a party thrown by the Municipality of Ljubljana, Slovenia, which was staged in three halls of the Gospodarsko Razstavisce, the biggest exhibition center in the city. Advertus produced the event, which featured artists and DJs including Danijela, Bajaga, Hari Mata Hari, Jan Plestenjak, Gibonni, Severina, ÄŒuki and Petar Grašo. Lighting supplier MK Light Sound used only Robe moving lights for Hall A, including ColorSpot 1200 and 700E ATs, ColorWash 575 E AT Zooms and Robe Spot 575 XTs.
MK Light Sound's Dean Karov served as LD for Hall A. "Using Robes gave me plenty of creative flexibility for a multi-artist event like this, and of course I knew I could rely on the fixtures working hard all night and not breaking down." He ran the show on a grandMA full size console.
In Hall A2, Festival Novo Mesto supplied lighting and sound. The LD was Marjan Pirnar and Janez Klobučar programmed the show. That rig included Robe Spot and Wash 575 XTs.
For more information, please visit www.robe.cz.
Leave a Comment: