Robe Warms Up Winter Sound System Festival Down Under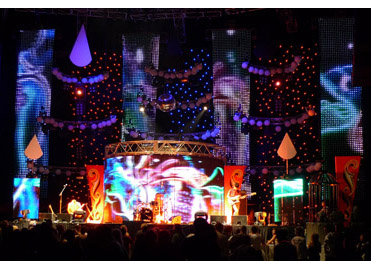 MELBOURNE, Australia — Nearly 200 Robe moving lights were used by LD Andy Mutton in his design for the 2009 Winter Sound System dance festival, an all-night dance music carnival staged by Future Entertainment. Clifton Productions supplied lighting equipment for the 2009 event. The crowd of 18,000 chose between an array of indoor arenas presenting DJs including Armin Van Buuren, Armand Van Helden, James Zabiela, Chris Lake, Guy Gerber, Matthew Dekay, Laidback Luke, Rozalla and Altern8 and more.
Mutton noted that the Armin Arena was designed to look like a gravitron show ride, with the DJ table in the center. Seven Robe REDWash 3-192s, 14 Robe ColorWash 1200E ATs and 33 Robe ColorSpot 1200E ATs were used as the main over-stage lighting.
Three trussing circles were rigged around the DJ table, clad with VuePix LED panels arranged in a spherical pattern lying on their backs facing towards the ceiling. Robe ColorSpot 1200ATs were rigged above this stage piece and positioned on the truss to correlate with a series of plastic scenic elements, so their gobos could add to patterns and texturing to the Vuepix screens.
Robe ColorWash 1200ATs encircled this stage piece at floor level, their beams used to color the truss under the video screens and uplight the pyro effects and CO2 gas jets.
The Future Arena was one of the largest spaces, designed to resemble a Circus big top. It kicked off with some anthems courtesy of Arman Van Helden and local DJs.
The DJ platform was five meters high, and the stage was encircled by a wall of VuePix screens with the look like a ring leaders' podium. Behind the DJ was a wall of half circle trusses in the shape of giant clowns. Half of these circles were rigged with Robe ColorSpot 2500E ATs.
Mutton credited the Robe ColorSpots for thick beam color-changes and movements in time to the house music rhythms. He positioned 18 Robe REDWashes all over the stage floor, to which Clifton's system tech Matt Downs added some imaginative programming.
Other stages at the carnival included The Renaissance Stage, Old Skool Arena and Likes of You stage — all lit with Robe ColorSpot and ColorWash 700E ATs, and operated in conjunction with Michael Parsons, Simon Downs, John Stanley and Mutton.
"Overall the Robes were great," said Mutton. "In my rooms they all held up to the 10 hours of intense flashing, strobing and moving. The mechanics are constantly in motion and the functions really keep up with the pumping pace of the DJs."
Mutton programs live for shows like this, and said he was discovering new looks as he was bouncing between functions. "That's where all the 'hidden looks' are discovered, but only if the capabilities of the moving light can keep up with your creative decisions."
Mutton said he liked the Robe REDWash's rectangular-shaped LED lightsource, and expects to use them again.
The carnival-like atmosphere of the Winter Sound System Festival was completed with sideshow games, market stalls and rides, all turning Melbourne Park's grounds into a fairground for the duration of the event.
For more information, please visit www.robe.cz.
Leave a Comment: