Setting the Stage for G20 Summit Press Coverage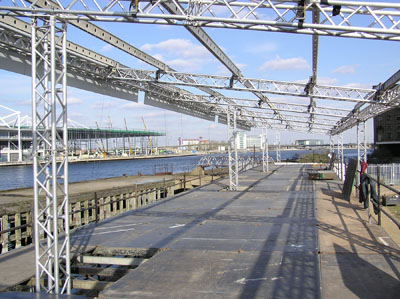 LONDON — Not every event includes the leaders of countries involved in 85 percent of the world's gross national product, 80 percent of its world trade and two-thirds of its population. And when such an event does come along — such as the G20 Summit — the press naturally arrives in force, too.
For the Royal Victoria Docks/Millennium Mills site, which faced the ExCel Centre and G20 Summit venue from across the river, Summit Steel supplied an 88-meter-long version of their StandUpper structure plus 11 SmarTmast 1s, which were used to provide general site lighting.
This grandstand-style version StandUpper formed an elevated "press pen" enclosure for the event, and was used by the media covering the event. Summit Steel's StandUpper evolved from the company's "marquee" superstructure, originally designed as a walkway covering for the red carpet area at the British Academy of Film and Television Arts (BAFTA) Awards for the last two years.
The higher, open end of the StandUpper's slanted roof stood at 5.5 meters, while the lower end was at 4.5 meters. Inside the space, Atlantic installed decking platforms running the full length at a height that would give the press clearance to get their lenses over the fence at the water's edge of the site.
Blackfriars competed the dressing elements, including the corrugated aluminum roof and the draping of the front handrails. Feltech Electronics, a supplier of broadcast and AV gear, meanwhile, distributed the SmarTmasts around the site. The masts were rigged with flood lighting and used for security purposes and as work lights for the night shift crews.
Jay Call led Summit's team of 10 riggers. Six people completed the StandUpper build and two were deployed on SmarTmast duty. Another two Summit riggers helped the assorted TV crews with cable management and running their wires over to the ExCel side of the river via the walkway bridge to one side of the site.
"It all went very smoothly," Call said. "We were geared up for bad weather as always, but apart from one day with gusting winds up to 38 m.p.h., the weather was kind to us. We finished the build and get out bang on schedule."
For more information, please visit www.summit-steel.co.uk.
Leave a Comment: