SGM at the 2009 Festival de Verao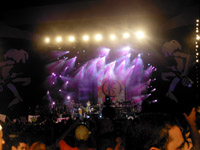 SALVADOR DE BAHIA, Brazil — One of the musical events of the summer in the northern Brazilian state of Bahia is the Festival de Verão, a musical event held in the large Parque de Exposições and able to draw over 200,000 people per night. The most recent edition, staged in late January, included Brazilian artists Ivete Sangalo and Chiclete Com Banana along with international artists such as Alanis Morissette.
The crew adapted the set and the lighting rig to the needs of the various using SGM moving head fixtures and LED colour changers. For the vertical and horizontal lighting of the stage set, the crew used Giotto 400 Spot and Wash units and Idea Wash 575s. For backlighting and backdrop lighting, they used Synthesis Spot 700s.
The crew also positioned Synthesis Wash 700 fixtures in front of the stage for overall set coloring and used Ribalta color changers on the large side banners, highlighting the festival's logo. Giotto Digital 1500s also painted the set with digital graphic effects, timed in sync with the music from the various shows.
The other two main stages were set up in the Parque de Exposições, illuminated by dozens of Giotto Spot 400 and Ribalta RGB moving head fixtures.
The SGM dealer providing gear was L.B.O. Lighting Commercio. The LD was Mazao, a.k.a. Marcelo Marino. The lighting contractor was Luzbel.
For more information, please visit www.sgm.it.
Leave a Comment: