Silbermond Tour Uses i-Pix BB7 LED Wash Lights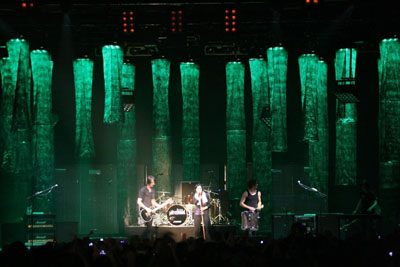 LUXEMBOURG — Stephan Aue, lighting designer for German rock band Silbermond used 24 i-Pix BB7 LED wash units as the main over-stage lighting on the band's latest tour, promoting their Nichts Passiert (Nothing Happened) album.
Aue was pleased enough with the results to plan on expanding it for the next leg of the tour in November, when the band tries to build on its growing momentum. On the first leg, the band played venues ranging from 2,000 to 8,000. On the next one, they move up to larger arenas.
The band's initial brief for the tour lighting included a request for a "classic" rock 'n' roll appearance to the stage that was not full of modern clichés, and something that specifically didn't resemble any of the standard "LED looks" that are the trend of the moment. Aue's challenge was to produce something unique and different within those parameters.
He opted against using any moving lights overhead, and no LED panels. The no-LED panels idea was re-thought for the festival section of the tour, however, where they needed a specials package. For this, he created a moving set piece with Martin LC panels, back-lit with Jarags and MAC 3K Profiles. This was then integrated into the band's full production shows, which included the BB7s on the tour.
As a result, the BB7s played a major role in creating the overall stage visuality and ambience. They were rigged across three over-stage trusses braced by scaff bars to get the fixtures in exactly the right places for even coverage of the whole stage.
To add some quirkiness, for the first three songs, cloth tubes of varying lengths were attached beneath the BB7s, forming internally-lit cylinders. These were then ditched via magnetic kabukis. Thereafter, the BB7s were used to their full potential as stage washing fixtures.
"They were exactly the right lamp for the all functions and effects I wanted," said Aue, who credited the fixtures for the quality and tone of their light output.
Aue first saw BB7s in action on the Radiohead tour and was "amazed by the light output," the array of colors and their surprisingly "non-LED" look.
Aue's first opportunity to use them on one of his own shows was for another German band, Reamonn. For that band, he used six as specials and grew to like them even more.
Then along came the latest Silbermond tour with their request for a retro, slightly unusual and offbeat look. "Apart from all the great features of the BB7 as a lightsource, it also has that real "vintage" look, which I really like," Aue said.
The lighting rig for the Silbermond tour is being supplied by Berlin-based Black Box Music.
For more information, please visit www.i-pix.uk.com.
Leave a Comment: