Sound Power Energizes U.K. Bar Scene with PR Lighting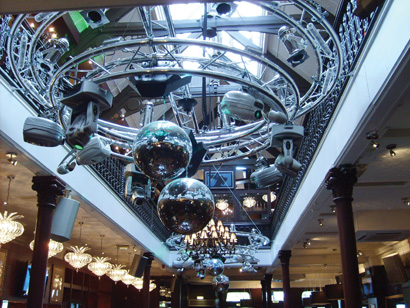 NOTTINGHAM, U.K. – Sound Power, which has been providing U.K. bars with moving spot and wash lights for two decades, has been outfitting popular drinking establishments with gear from PR Lighting since the 1990s, according to director David Ridout. "We have been using Pilot 150s regularly since around 1996," Ridout said. "It's a totally failsafe product, and we also use them in Yates' bars all the time."
When clients require more ambient FX than strident pulsed strobe lighting, Sound Power will often turn to the Pilot Wash 250 for a gentle wash to color-change the walls. The 250s offer full CYM color mixing and an additional color wheel with six dichroic filters, which can also be rotated continuously to create a rainbow effect.
"When trading patterns change to the evening, the constant wash of color from floor to ceiling is exactly what the clients want," Ridout said.
Sound Power also provides bars with PR Lighting's Solo 250s. These fixtures feature nine colors, seven interchangeable rotating gobos, an independent shutter for strobe effects, a rotating prism and remote focus.
Like the other PR Lighting heads, those fixtures are supplied by U.K. distributors MilTec Ltd. MilTec also provides Sound Power with their own LED battens. "We have a long relationship with MilTec and receive excellent support," said Ridout.
So what makes PR Lighting heads so irresistible? Principally the amount of features they provide at an incredible price point, states the Sound Power director.
"You also have interchangeable gobos so we can create custom brand logos – as we did for the Que Pasa Latin/Spanish theme bars. These fixtures are also economical to run," Ridout noted, adding that "lamp replacement of the HTI 150Ws is also inexpensive."
Along with price, Ridout said, PR Lighting moving heads offer color selection, gobo choice, beam angles, movement and speed of response from the ShowMagic or ShowCAD controllers, which the company specifies.
For more information, please visit www.pr-lighting.com.
Leave a Comment: