Spotlight Brings Italian-Made Fixtures to China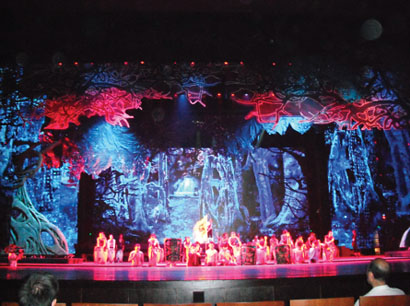 GUANZHOU, China – Spotlight, an Italy-based manufacturer of professional fixtures for the performing arts, has announced that it has supplied gear to some of the major venues for the performing arts in China, including the Guanzhou Opera House, the Chongqing Grand Theater and the Concert Hall in Shenzhen. This activity adds to the role the company played during the 2008 Olympic Games in Beijing, when it provided lighting for the Olympic Fencing Hall at the National Conference Centre, where all the fencing matches were held, and more recent training activities such as the two seminars held in November in Shanghai with LD Liang Hongzhou. Those seminars were organized by Shanghai LasLead Technology.
At the Guangzhou Opera House, Spotlight provided more than 350 of its Fresnels, PCs and Floodlights. Designed for the 2010 Asia Games, the venue is part of a cultural project that covers an area of 46,000 square meters and features 1,800 seats and a multifunctional digital hall with an area of 2,500 square meters.
At the Chongqing Grand Theater in Southwest China, which has an 1,850-capacity (Grand) and a 930-capacity (Medium) theatre in a complex covering 80,000 square meters, Spotlight reported that over 450 Italian manufactured fixtures have been provided, including PC and Fresnel spotlights and Domino and Ribaltina floodlights.
At the Shenzhen Concert Hall, a 25,000-square-meter complex, 100 of Spotlights' fixtures were chosen. The venue includes an auditorium (1,800 seats) mostly for symphonic music concerts, plus a small theatre and other facilities such as a digital recording studio, four VIP lounges and 18 piano rooms.
For more information, please visit www.spotlight.it.
Leave a Comment: