Spring Brings Robe's Robins to Croatia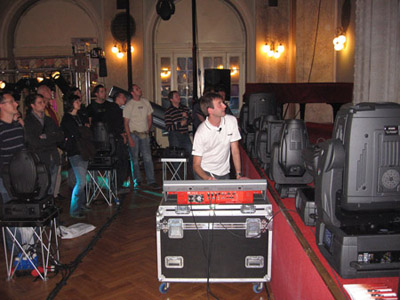 PULA, Croatia — Robe's Robin products, introduced at ProLight + Sound in Frankfurt, have been spotted in other countries as well, including Croatian distributor Sali Trade's third annual Open Day. The event was staged at the Dom Hrvatskih Branitelju (House of the Croatian Army). Perinić Sistemi also organized the event, which drew over 70 lighting specialists from Bosnia and Slovenia as well as Croatia. The attendees represented TV (including HRT national TV), theatres (including the HNK Zagreb Croatian National Theatre, HNK Split, the Centre of Culture in ÄŒakovec, INK Pula and Teatr Požega) plus several rental companies (GIS, DD Elektroakustika, ARA Electronic, Produkcija Zvuka).
"Each time the events grow and improve to the point where they have become a must-attend occasion for anyone serious about getting to know the latest lighting technology available on the Croatian market," said Harry von Den Stemmen, international sales manager, who represented the Robe brand.
Robe made a presentation of all its products. Technical Support Manager Aleš GÃ…â"¢ivač concentrated on the Robin series as well as the Digital Series products including DigitalSpot 7000 and 3000 DT.
The three new Robe Robin products are the Robin 300 Plasma Spot and the Robin 300E Spot and Wash fixtures.

Robe said it is the first major lighting manufacturer to be using the plasma lamp technology from Luxim, the Lifi, and that the Robin 300 Plasma Spot is just the first in a new generation of plasma lamp based fixtures.
For more information, please visit www.robe.cz.

Leave a Comment: