Talent Show Spoof Strives for Cliched Looks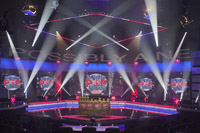 MANCHESTER, U.K. — An opening screen for entrances and exits and lots of video-driven LED elements played a big role in Simon Kimmell's over-the-top set design for Peter Kay's talent show spoof, Britain's Got The Pop Factor … And Possibly A New Celebrity Jesus Christ Soapstar Superstar Strictly On Ice. XL Video supplied 40 square meters of Barco i6XP and 28 touring frames of Barco MiPix for the final episode the over-the-top series. The central screen was made from Barco i6XP LED panels, configured 14 panels wide by six panels high. A Kinesys automation system opened and closed the main screen, which was flanked by four smaller screens.
The MiPix was used to create a central stage banner bordering the performance area at ceiling height, plus a 12 panel rear banner strip along the back of the bleacher seating, used for reverse camera shots.
"They needed a well-trusted high resolution screen to cover every eventuality, and the i6XP was a cost effective solution that produced exactly the right effects," said Steve Greetham, who managed the project for XL. "The MiPix also fitted perfectly into the equation, it's lower resolution making it clearly visibly different and definable from all the other visual mediums on the busy show."
The i6XP and MiPix surfaces were all fed by video content created and stored on a Catalyst media server, triggered by moving light and digital media programmer Svend Pedersen's Wholehog 3 lighting console. Tom Kinane served as LD for the "Pop Factor" series, and XL supplied LED tech Alain Demy for the load-in and set up in Manchester.
HSL supplied the lighting for the show, which was taped at Granada Studios in Manchester. XL has also supplied several X-Factor tours and television productions with video requirements.
For more information, please visit www.xlvideo.tv.
Leave a Comment: