TechnoPro Uses PR Lighting for Middle East Shows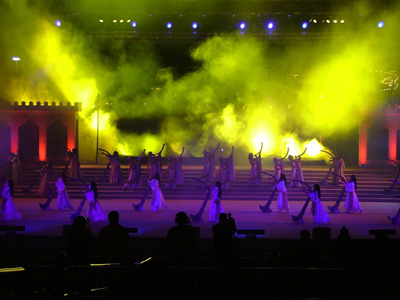 MUSCAT, Oman — TechnoPro LLC, which staged the Muscat Festival 2009 at Al Qurum National Park earlier this year, provided lasers, pyro and rigging and a lighting rig that included fixtures from PR Lighting. For that event's opening ceremony, which was attended by Oman's royalty and other VIPs, TechnoPro used 12 Mega Color 4000 CMY units, 36 XL1200 spots and 24 XL1200 wash lights before unleashing a multimedia laser show and fireworks display.

All effects were triggered from a grandMA console, programmed and operated by TechnoPro's Elie Khader, and Oman TV aired the show live.
Khader also used a grandMA on a three-day event marking United Arab Emirate's 37th UAE National Day, staged near the Emirates Palace in Abu Dhabi, which used a Gulf Cooperation Council (GCC) landmark building as a backdrop.
For that event, broadcast live by Abu Dhabi TV, Khader used 12 PR Lighting Mega Color 4000 CMYs, 12 XL1200 spots, 24 PR XL 700 spots and 24 PR XL 700 wash lights
"Once again, PR Lighting fixtures proved the 'pure reliability' of their slogan," said Nabil Bourgeili, managing director of TechnoPro. "They were durable and accurate during the shows even though the units were operated outdoors, under severe weather conditions." Bourgeili also credited the "affordable price" of the XL Series gear.
For more information, please visit www.pr-lighting.com and www.technopro-uae.com.
Leave a Comment: