The Pier Bar & Grill Creates Visual Vibes with Anolis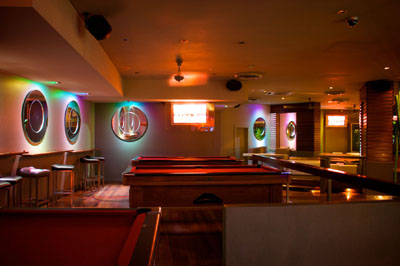 CAIRNS, Australia — The Pier Bar & Grill, which overlooks the Coral Sea and incoming yachts and powerboats, recently invested in a lighting upgrade for mood, ambience and energy efficiency. JVG supplied and installed LEDs from Anolis, with JVG's North Queensland sales manager Scott Miller and Pier Bar & Grill owner, John Hassler working together on the project.

Anolis ArcSource 6 RGB Warm White fixtures are fitted above all the mirrors and columns around the venue and the pool table area. Anolis ArcLink RGB is used to give a boost to the feature lampshades dotted throughout the venue.

"Everyone loves the results, specially as the room faces the Cairns inlet so at night the lighting changes with the setting sun, creating some truly magical effects," said Miller.

All the Anolis fixtures are powered by Anolis ArcPower 16×6 and ArcPower 144 LED drivers and controlled via an E:Cue Excite +.
"The Anolis additions have definitely made it a more relaxing atmosphere for people to chill and enjoy a nice ice cold beer or glass of wine while watching the sunset," Miller said. "John wanted the best in LED lighting, and Anolis was easily that choice," he added.

The venue's dance floor area was already equipped with Robe ColorSpot 170 AT moving lights, and these are used to project bright colors and effects onto the floor.
JVG has used Anolis for many other installs including at the Consortium in Townsville and Cocktails & Dreams on the Gold Coast. "The colors, specially the reds and blues, are beautifully deep and bright, and they are generally excellent and reliable fixtures," Miller said.
For more information, please visit www.anolis.eu.
Leave a Comment: