Unusual Rigging Adds Staff to Dubai Office, Plans New Projects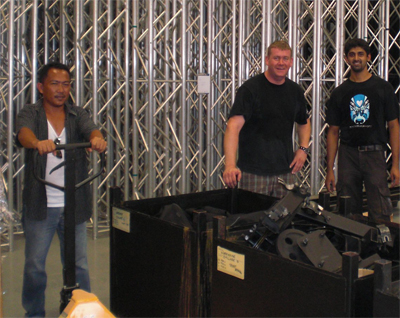 DUBAI, UAE — The Dubai office of Unusual Rigging, opened by managing partner Alan Thomson earlier this year, is now up and running, with five staff, including administrator Cindy Barrameda and Ruperto Lamentac Jr. Unusual Rigging and Engineering LLC also announced several upcoming projects. One of the first major undertakings for the company is the exclusive contract to provide all rigging and associated services for the Dubai Airshow in November.
Taking place at Airport Expo, the Dubai Airshow is one of the leading aerospace events in the Middle East and one of the fastest growing air shows in the world.
The 850 exhibitors at the previous show, in 2007, included companies such as BAE Systems, Rolls Royce and The Boeing Company, and saw over 45,000 people attending from 50 countries.
Slightly more unusual for Unusual Rigging in Dubai will be the installation of the world's longest chandelier, on behalf of lighting installation artist Beau McClellan.
The chandelier, which measures 65 meters and has already been noted by the Guinness Book of Records, is made up of 2,500 individual hand shaped crystals. The installation, in offices in Doha, is being project managed by Steve Porter.
In a more traditional vein, Unusual Rigging and Engineering was recently awarded the contract to service and maintain all Wybron equipment in the region, including the Dubai Mall, with its 1,200 stores and other world-class attractions.
For more information, please visit www.unusual.co.uk.
Leave a Comment: