Vista Systems Spyders Used for Projection Design for Acropolis Museum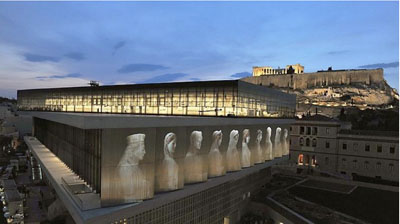 ATHENS, Greece — When the Greek Ministry of Culture asked Videotooth Event Engineering to undertake the projection system design for the opening of the New Acropolis Museum in Athens, manager / video director Vassilis Leonidopoulos selected Vista Systems' Spyders. The Spyders brought a series of classical animations to life, providing a glimpse at the symbols associated with ancient Greece, while emphasizing the new museum's architectural surface.
Although there have been museums on the Hill of the Acropolis since the mid-nineteenth century, the new museum, which opened earlier year, now sits near the base of the rock with a direct view of the Parthenon. Its exhibit space is 10 times bigger than the last museum on the Hill.
In a display that unites ancient and modern Greece, an eight-minute looped projection called "Reflections" included images of the museum's sculptures from the 6th to 4th centuries B.C. with the building's contemporary architecture.
Large-scale animated projections appeared on seven exterior surfaces of the museum and neighboring building, bringing art from shards of ancient pottery to life, including those of a man battling a minotaur, images of geese, deer and rabbits coming to life from pot shards, painted plates dancing in concentric circles, and pottery horses moving about.
"The Spyder was the best choice for the job involving Pandoras Boxes for video playback and Spyders for picture management," said Leonidopoulos. "Pairing the two systems gave us great flexibility and economy: If we had used only Pandoras Boxes for the display surfaces we would have needed a lot more playback units, but with the routing capabilities of the Spyder, we minimized the number needed."
Leonidopoulos deployed five projectors to create the museum's largest display in which a Spyder 335 system fed the surface with two channels of HD animations. A Spyder 344 fed another large screen with a complex display area due to different building levels. "That required us to map different layers with parts of the same channel of HD animation," Leonidopoulos said.
Approximately 2.5 km of optical fiber were used to link the museum's control room with 19 projectors at various exterior points around the buildings. Fourteen of the projectors were double-stacked.
"Reflections" was projected from sunset until late evening on the first three days of the Museum's opening to the public.
Podimatas Audiovisual S.A. was the main supplier of AV equipment for the installation. Director Athina Rachel Tsangari and her team created the animations at antidot design studio, HAOS Film, and Nomint.
At Videotooth Event Engineering, Dimitris Kritsimas teamed up with Leonidopoulos on the projection system design and Daniel Kaminski and Stavros Chloros were Pandoras Box operators. The company is the Spyder supplier to the Greek market and an expert in widescreen presentations and video installations.
For more information, please visit www.vistasystems.net.
Leave a Comment: