Watchmen Event Lit with Retro Touch for U.K. Fans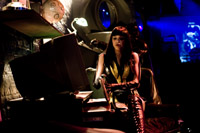 LONDON — Point Source Productions Ltd. supplied lighting, dimming, control and trussing to Future Cinema's preview event for the movie, Watchmen. The event, produced in conjunction with Paramount Pictures UK, Nokia and Smirnoff, took place at the SeOne Club in London Bridge the night before the film's release in the U.K.
Future Cinema and its sister company, Secret Cinema, specialize in events staged for new and classic film releases. The companies try create an environment that immerse the cinema-goer in the imaginary world of the film by re-creating scenes inhabited by actors, prior to a showing of the film itself.
For Watchmen, Future Cinema wanted to create the futuristic New York settings of the film combined with some evocative 1950s settings, such as the American diner, to give the feel of the 1950s era in which the graphic novel was written.
Future Cinema called in LD Jono Kenyon, with whom they have collaborated on a number of occasions, to create the necessary ambience.
"The venue already had a Sci-Fi feel to it, being under the arches, which we could take advantage of to re-create the lunar and Martian landscapes represented in the film," Kenyon said. "We worked in a very filmic way to create the 'vignettes,' taking care to get the vibe of the film just right.
"Point Source Productions provided us, in advance, with stock piles of generic lighting equipment which gave us the ingredients we needed to be able to light as we went — these events are very fast-paced," Kenyon noted.
"This included some deliberately old-style kit like Arcline, Egg strobes and Fuzz-light beacons in addition to a quantity of Minuette fresnels, Thomas Par 38, PAR 56, PAR 64 and Birdies. We used 500kW Codas as uplighters washing the walls and projected logos and breakups from glass gobos in ETC Source 4s."
Point Source Productions also supplied Smoke Factory Data II smoke machines, along with all dimming, control, cabling and rigging.
One of the highlights of the show was the Musion Eyeliner high definition holographic video projection screen — on this occasion showing the moving blue figure of Watchmen character, Dr Manhattan. Point Source Productions provided the Litec QX30S box truss, which served as the framework for the illusion.
This is the third Future Cinema/Secret Cinema event Kenyon has lit with the aid of Point Source Productions equipment, having previously been involved at the showing of Anvil at the Shepherds Bush Empire in February 09 and Ghostbusters at the Lawrence Hall, Victoria in November 2008.
For more information, please visit www.pslx.co.uk, www.jonokenyon.com, www.futurecinema.co.uk and www.secretcinema.org.

Photo credit: Barney Steel
Leave a Comment: