White Light Supports Peter Pan in Kensington Gardens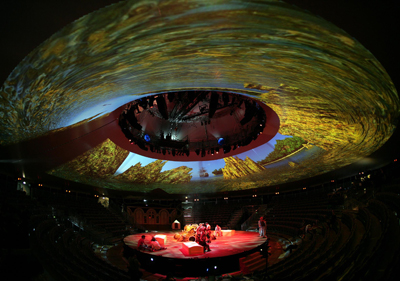 LONDON — Kensington Gardens was a favorite haunt of J.M. Barrie, author of Peter Pan. Now the park is the locale for a new theatrical telling of that story in a 1,000-seat tent with a set designed by William Dudley, lit by LD Mark Henderson with gear supplied by White Light. Ben Harrison, artistic director of the Grid Iron Theatre company, is directing the production, with Fleur Darkin serving as choreographer.

Peter Pan is giving Dudley the opportunity to expand on the computer-generated virtual environments for which he has become known since The Coast of Utopia in 2002. That production used a screen wrapping 180 degrees, and The Woman In White later extended the screen to 220 degrees around the cast. With the Peter Pan audience wrapped around the stage, that now expands to 360 degrees, projecting onto screens above the audience and wrapping around the tent.
The gear list includes a core moving light rig of Clay Paky Alpha Wash 1200 washlights, Vari*Lite VL1000TS and VL3500Q framing spotlights, Martin Mac700 Wash and Spot fixtures and Mac TW1 tungsten washlights.

Complementing these are a conventional rig of over 100 ETC Source Four profiles and Source Four Pars, Rainbow color scrollers, CCT Minuette Fresnels, Birdies plus four High End Dataflash strobes and two Unique haze machines. Control for the entire rig is from an ETC Eos console driving ETC dimmers, the console programmed by Nick Simmons.
The other crew members include a team led by production electrician Fraser Hall, with Richard Bullimore serving as the show's production manager.

Peter Pan is one of many shows currently using equipment from White Light. Others include Sister Act, Billy Elliot, Chicago, Les Misérables and Dirty Dancing, plays including War Horse and Hamlet and tours including We Will Rock You.
For more information, please visit www.WhiteLight.Ltd.uk
Photo courtesy of Simon Annand

Leave a Comment: