White Light Transforms Wembley Stadium's VIP Guest Rooms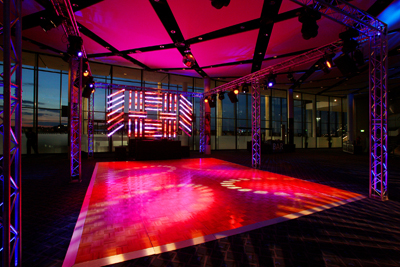 LONDON — When Wembley Stadium decided to transform the VIP guest hospitality room for this summer's major concerts, including AC/DC, Oasis, Take That, U2 and others, the venue's management turned to White Light. The challenge was to create a versatile design that could provide a calm but attractive feel to the room for the pre-show dinner and drinks, but then transform the space into an exclusive nightclub for the aftershow parties.

To achieve this, White Light's Dominic Yates used some recent additions to White Light's lighting stock to create a design flexible enough to give the room a unique feel for each concert, while dynamic enough to continue the excitement of the gig beyond the end of each show.

The design made use of Fusion672 LED panels, which allowed the creation of both dramatically changing lighting backdrops and corporate branding, with the "Club Wembley" logo presented during the pre-show dinner.

"We have worked with White Light during our 2009 concert series and have found their approach creative and innovative," said Marie Head, event services manager at Wembley Stadium. "The lighting designs they've produced have created exactly the right ambience for our hospitality package, especially for the party afterwards."

White Light provides lighting solutions for corporate presentations, parties, receptions, weddings and more, attending to design, health-and-safety, installation, show running and load out.
For more information, please visit www.whitelight.ltd.uk.
Leave a Comment: