XL Video Supports Take That's Circus-Themed Stadium Tour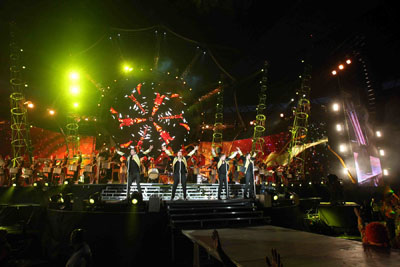 LONDON — XL Video director Des Fallon worked with Take That back in the 1990s as video crew chief, and he continues to support the band, with XL Video investing in new technology and ideas. "Take That and their production team have always been prepared to push technical and imaginative boundaries to help deliver the very best in live performance," Fallon said, referencing production manager Chris Vaughan and The Production Office. "It's refreshing and inspiring working with those embracing the spirit of creative audacity and adventure."
For the current Circus-themed stadium tour, XL Video sourced and purchased 140 square meters of 15 mm pitch high resolution PIX LED F-15 LED screen — a new 6000 NITS product. This was framed by a circular truss, which moved up from the stage and into position near the start of the show.
XL designed custom metalwork for the panels to streamline the rigging and de-rigging process and help it dovetail with the other rigging and set design elements, also minimizing the screen assembly time for such a large surface area.
The PIX LED F-15 was driven by inbuilt dual processors running in parallel for redundancy. It is also IP65 rated, which was necessary because the stage design does not include a roof. "It took a lot of research, but proved the perfect product that absolutely fulfilled all the criteria," Fallon said.
XL also made new purchases for the playback side of the TT video equation — four new HD Hippotizer digital media servers. These were operated by Richard Shipman, running an array of custom content produced by Onedotzero.
XL also supplied a full camera and PPU package, consisting of eight new HD compatible Sony E30 cameras with an assortment of lenses, which were positioned around the stadiums for coverage of both stages. The mix was cut by Matt Askem using a Grass Valley Kayak console. GVG DVEs were used to deal with the different aspect ratios of the show's four screens.
XL's crew chief on the tour was Stuart Heaney.
For more information, please visit www.xlvideo.tv.
Leave a Comment: