American DJ Europe Names Simon Fletcher Sales Manager For Southern U.K.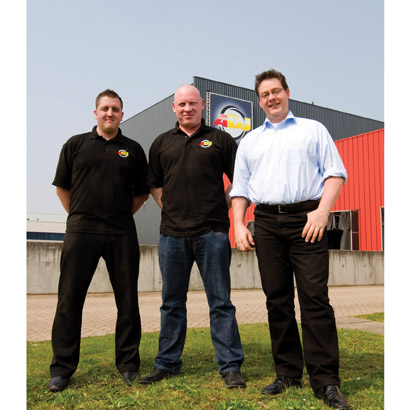 KERKRADE, The Netherlands – American DJ Europe has tapped Simon Fletcher, who is a DJ himself, to be the area sales manager of its southern U.K. sales district. Fletcher will be responsible for looking after the sales of the American DJ family of products in this region. As part of his job, Fletcher will be visiting dealers on a regular basis and building relationships with them. He will also be interacting with the DJ community in the U.K. at shows and events, and soliciting feedback on how the company's products can best meet their needs.
An amateur DJ since the age of 13, Fletcher worked as a sales executive for a number of international companies in the U.K. until eight years ago, when he left to pursue his DJ-ing career.
As a DJ, Fletcher has worked gigs including a wedding at the estate where one of the Harry Potter movies was filmed and an MTV Celebrity Party. He describes the latter as a "surreal gig – I was playing tracks while the people who wrote and recorded some of them were in the audience."
"I've been a friend of the American DJ family for nearly two years now, and have been lucky enough to meet most of the global team," Fletcher added. "I'm looking forward to being part of a solid group of people who are passionate about their products and their customers. As a DJ, I've used products from American DJ and American Audio, like the new VMS4 – and I truly believe in them."
In announcing Fletcher's appointment, Dirk Kast, general manager for ADJ Group, Europe, noted, "We are very excited to have Simon on board; his passion for music and DJ-ing and his understanding of what it's like to be a DJ, really embodies what American DJ is all about."
Although American DJ has grown into a leading force in the global lighting and audio market, Kast emphasizes that the company remains deeply rooted in its DJ tradition.
"Many of the key people in our company are very active in DJ-ing," he said. "Because we understand DJs, we aren't out there just selling products; we're also working with our customers to help them accomplish their professional goals. In this respect, Simon, with his extensive background as a DJ, fits right into our philosophy."
For his part, Fletcher sees a definite upside in joining a company on the move. "I have watched ADJ grow tremendously in the UK in the past four years," he said. "ADJ is bringing out products that are innovative and groundbreaking.
For me as a DJ, this is the company that I watch to see where I will be taking my mobile show next. In my opinion ADJ can only grow with the fantastic products they are introducing to the DJ industry – so sure, I'm thrilled to be a part of it."
For more information, please visit www.americandj.eu.
Leave a Comment: