ARRI, Zeiss and Fujinon Announce Partnership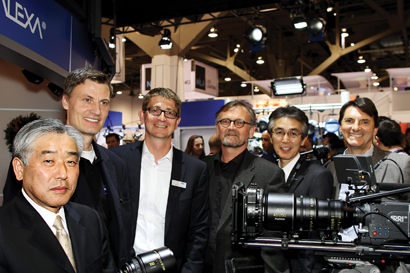 LOS ANGELES – ARRI, Fujinon and Zeiss announced a strategic partnership to create new products for the entertainment imaging community. The agreement includes an open exchange of ideas, standards and technologies and product development. Carl Zeiss is known for prime lenses, Fujinon for zooms and ARRI is the largest manufacturer of professional motion picture cameras in the world. The three-way partnership builds on the decade-long partnership between Zeiss and ARRI that has resulted in the current range of prime lenses. The new ARRI/Fujinon Alura zooms have been introduced as well. The partners envision customer benefits from continued product development efforts matching primes and zooms.
Along with mechanical and optical synergies, the three companies will work on solutions that respond to the needs of today's industry to combine affordability with enhanced electronic data transfer, thereby simplifying postproduction workflows – especially those that incorporate visual effects elements.
For more information, please visit www.arri.com.
Leave a Comment: