AV Stumpfl USA Names Salitek Distributor of Wings Platinum 4 in North America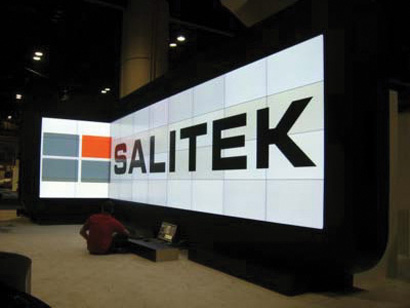 ELMHURST, IL – AV Stumpfl USA Corp., distributors of Monoblox and Vario mobile projection screens, named Salitek Inc. the exclusive distribution of Wings Platinum 4 in North America. Wings Platinum 4 integrates multi display software with AV Stumpfl Media Server hardware for a video wall processing solution. "This is really a tremendous opportunity for AV Stumpfl USA Corp. to expand our sales and brand recognition for Wings Software in North America through this important strategic distribution partnership," said Franklin Moore, managing director and president of AV Stumpfl USA Corp.
Salitek, Inc., of Northbrook, Ill., is known throughout the industry as the long standing, exclusive importer and distributor of Orion PDP flat panel display product serving systems contractors with complete product solutions for video wall and multi display solutions in the U.S.
"Adding AV Stumpfl Wings to our current product mix gives Salitek the ability to add more value to our customers by offering a reliable Multidisplay solution as a turnkey option," said Vince Schuster, CTS, ISF-C and president of Salitek, Inc. "We are really excited to be associated with AV Stumpfl and the Wings Multidisplay Software and Hardware solutions."
AV Stumpfl Wings was presented in the Salitek Orion booth at InfoComm 2009, used for processing and control for imagery on a 4 x 10 L-Shaped Orion M-PDP video wall. AV Stumpfl will go a step further at this year's InfoComm in Las Vegas, using AV Stumpfl Wings processing on a 4-by-16 L-shaped Orion M-PDP video wall in Salitek's 40-foot-by-50-foot booth (#C5145), located in the Central Hall.
Salitek will be demonstrating Wings Platinum 4 on the new Orion OPM4250 with just 1mm gap between the neighboring MPDP glasses at Infocomm 2010. The Wings 4 platform will control all 64 Orion MPDP 42" displays in the array of 4 panels high by 16 panels wide in an active display.
For more information, please visit http://www.youtube.com/watch?v=zFcUGiK00tQ , www.avstumpflusa.com and www.salitek.net .
Leave a Comment: