J. R. Clancy Adds CFO, Dealer Project Manager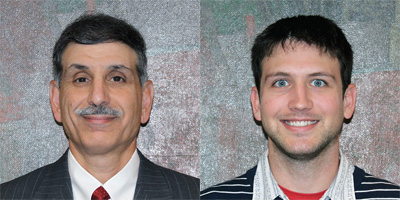 SYRACUSE, NY — J.R. Clancy has hired Raymond Carrock, pictured left, to be their chief financial officer and Patrick Finn, pictured right, as the new dealer project manager. With 33 years of financial management experience for manufacturing companies, Carrock brings a mix of industrial expertise and leadership to Clancy. He served for 12 years at Syroco, Inc., a resin furniture manufacturer in Baldwinsville, NY, then formed his own consulting firm—but he returned to Syroco at the company's request, taking the helm as its president during a significant transition period. Most recently, Carrock was vice president and CFO for ECR International, a maker of boilers, furnaces and air conditioning units based in Utica, N.Y.
"I have never seen a company so customer-focused as Clancy," said Carrock. "My mantra is to add value, and to eliminate non-value-added steps and work. As CFO, I get to see everything, because everything revolves around cash. I'll be involved in many things, and I'll try to help people make better decisions that will increase revenue."
Carrock has a Bachelor of Science degree from Ithaca College, and a Master's degree in Business Administration from Rensselaer Polytechnic Institute. A Utica native, he lives in Syracuse, where he and his wife have five children.
Dealer Project Manager Patrick Finn began his career as a carpenter, quickly becoming a technical director and working at theatres including the Long Wharf Theater in New Haven, Connecticut; Virginia Opera House in Norfolk; Ohio Light Opera in Wooster, Ohio; and City Theatre Company in Pittsburgh, Pennsylvania. Over the years, Patrick had hands-on experience with every kind of rigging, from the simplest hemp houses to computer controlled automation.
While working at the Brevard Music Center in North Carolina, Finn had the opportunity to work closely with a technician from J. R. Clancy. "He literally showed me the ropes in this hemp line house," Finn said. "When I heard about the position opening up at Clancy, I knew I wanted to be a part of this organization."
Most recently, Fin served as a consultant with Cosler Theatre Design in New York City. In his new position at Clancy, Finn will have direct responsibility for all projects that originate with dealers—meaning that he will work closely with dealers and customers on the majority of Clancy's projects.
A Wooster, Ohio native and a graduate of Baldwin-Wallace College in Berea, Ohio, Patrick now lives in Auburn, N.Y.
For more information, please visit www.jrclancy.com.
Leave a Comment: