LMG Systems Integration Opens New Tampa Location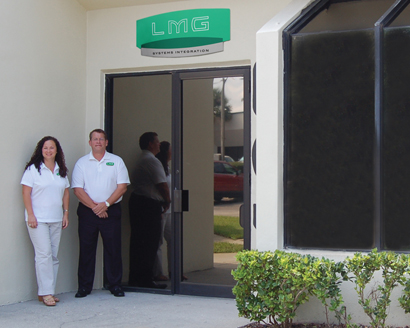 TAMPA, FL – LMG Systems Integration, a division of LMG, Inc., opened a new office within the Thompson Center at 6302 Benjamin Road, Suite 409, Tampa, FL 33634. It houses office, warehouse, and audiovisual demonstration spaces for the firm's expanding systems integration team to support projects within the region. "Tampa is home to some of Florida's largest corporations and universities, and having a local presence in that market affords us better access to the community," noted Neil Morrison, LMG's director of systems integration.
To staff the new facility, LMG Systems Integration hired Robert Allen and Pamela Gelletly as sales engineers for the division. In this role, they will each handle developing new business, maintaining client communication, and advising clients on the optimal equipment to meet design and budget needs.
Robert Allen brings over 30 years of audiovisual industry experience to LMG. Previous to LMG, Allen most recently acted as sales manager at a leading systems integrator, handling engineering, project strategy, and developing client partnerships supporting high end installation projects, with an emphasis on entertainment, sports, corporate, and government markets.
Pamela Gelletly brings over a decade of experience in business development within the audiovisual industry. Previous to LMG, Gelletly acted as senior account manager, overseeing high end audiovisual installation projects for higher education, healthcare, corporate, hospitality and government markets.
"Bob and Pam are a welcome addition to LMG's system integration team. Their combined expertise in our new Tampa location continues in our efforts to expand the systems integration division locally and nationally," says Les Goldberg, CEO/president of LMG.
For more information, please visit www.lmgintegration.com and www.lmg.net.
Leave a Comment: