Paul Vincent Joins Behind the Scenes Foundation Board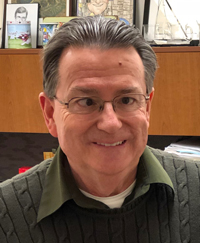 SOLON, OH – Paul Vincent, president of Vincent Lighting Systems, has accepted an invitation to join the Behind the Scenes Foundation Board of Directors.
More details from Behind the Scenes (www.behindthescenescharity.org):
Paul, who founded VLS in 1978, brings a wealth of industry experience to the Board. He is a past president of ESTA and the recipient of its highest honor, the Eva Swan Award. Paul is a USITT Fellow and a recipient of the Thomas DeGaetani Award and he currently serves on the USITT board. Paul is also an advisory board member for the Theatre and Dance Department of Kent State University, and a board member of Ohio Citizens for the Arts, The Musical Theatre Project, and The Wally Russell Foundation.
Paul has been an ardent supporter of Behind the Scenes since its inception: VLS employees have participated in a company sponsored Behind the Scenes Workplace Giving Campaign for the last twelve years, Paul has generously leant staff member, Kim Craigie, to work the BTS booth at trade shows for many years, and he has frequently donated prizes for BTS raffles and auctions.
Upon accepting the appointment, Paul commented, "I appreciate the vision of the Behind the Scenes Foundation, and the important support provided to people in our industry who are in need of a helping hand. I accepted this appointment without hesitation because this great work makes a difference in people's lives."
Rick Rudolph, the Chair of the Behind the Scenes Foundation, welcomed Paul to the board saying, "When we proposed appointing Paul, the response from board members was incredibly enthusiastic. Paul is articulate, passionate, thoughtful, and extremely well respected in our industry. We are looking forward to working with him and we know he will be tireless in helping us achieve our mission."
The Behind the Scenes charity provides entertainment technology professionals who are seriously ill or injured with grants that may be used for basic living and medical expenses. For more information about Behind the Scenes, to donate, or to apply for a grant, visit www.behindthescenescharity.org.
Leave a Comment: