Barco OverView KVD5521B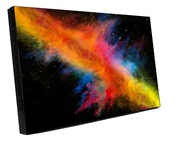 Barco's OverView KVD5521B is a price-competitive tiled LCD system for video wall applications, destined to further strengthen our position in the LCD video wall market. Compatible with any VESA mounting structure, it presents some of the benefits recently introduced in the award-winning Barco UniSee platform. These include a modular structure for easy maintenance, noiseless operation, automatic color and brightness calibration, and the option of operating the power supply remotely. Features include:
Modular approach for easy servicing and shorter interventions
Fan-less solution for noiseless applications
Superb inter-tile color and brightness calibration, thanks to integrated sensors in the back for automatic and real-time color and brightness calibration, following the Sense X algorithm
500 nits brightness, with a 3.5 mm bezel
User-friendly video wall setup and control interface via the LCD connect box
Optional 5 year service packages
Suitable for 24/7 operations and mission critical applications, also thanks to the remote redundant power supply option
Clear and clean DOA procedure
The OverView KVD551B is available worldwide as of April 2018.
For more info, go to barco.com.
Leave a Comment: