Christie LX505, LX605 Projectors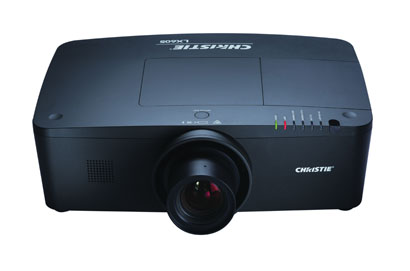 Christie's two new projectors, the Christie LX505 and Christie LX605, offer LCD technology enhancements and the company's 3D Keystone technology, a new four-corner geometry correction function designed for versatility in projector placement and display set-up. Other enhancements include motorized lens shift, focus and zoom, and a suite of lenses that can be switched with a one-button lens release. Users can also upgrade to more advanced network monitoring, control and display via an optional CCM-LX network module.
The LX505 is a 5000-lumens 3LCD projector for users in higher education, fixed installation, and houses of worship markets. The 3LCD panels provide an improved contrast ratio, and 10-bit image processing is designed to deliver superior gray-scale rendering and video with artifact-free images. The LX505 also features a 13,000-hour AutoFilter; a top-loading lamp; and built-in networking capabilities to allow for better troubleshooting.
The light-colored chassis of the Christie LX505 also enables it to blend in with ceiling tiles.
The Christie LX605 is a 6000-lumens projector designed for medium-to large size venues. Geared for rental and staging markets, fixed installations, houses of worship, higher education, and lighting markets, the LX605 has the same feature-set as the Christie LX505 but with 6000 lumens. Its black chassis helps conceal the wear and tear in demanding environments.
For more information, please visit www.christiedigital.com.
Leave a Comment: