Elation Architectural Accu SSL LED Replacement Lamp Series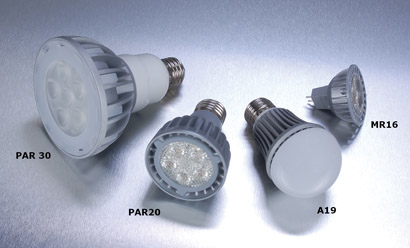 Elation Architectural's Accu SSL Series MR 16, A19 and Par 30 LED replacement LED lamps are designed to serve as a replacement for halogen, fluorescent and metal halide lamps. The Accu SSL MR16 is a 4-watt (4.5W Maximum) standard size MR16 GU5.3 bi-pin base LED Lamp that uses 3 high-power Nichia LEDs. Available in 2,700k and 5,000k color temperature models with a 25° beam angle, the Accu SSL MR16 is capable of providing luminance comparable to a 25-watt traditional halogen lamp but with only about 12 percent of the power consumption.
The Accu SSL A19 is a dimmable medium screw base 7-watt LED lamp using 5 high-power Nichia or Cree LEDs, which provides a 2,700k color temperature. Dimmable from most standard 120v AC dimmers, the Accu SSL A19 is designed to replace standard halogen lamps up to 40-watts in a variety of applications.
Based on XLamp LED technology from CREE, Inc., the new Accu SSL Par 30 12-watt LED lamp is capable of providing luminance equivalent to a 75-watt traditional halogen lamp at approximately 17 percent of the power consumption.
The Accu SSL Par 30 LED is available in soft white (2,700k), warm white (3,000K), neutral white (4,000k) and cool white (5,000k) with spot or flood options for each. Featuring 6pcs of Cree XLamp XRE Series LEDs inside each lamp and an optimized optical lens system, the lamp provides a powerful yet smooth light transmission.
The new lamp also has a draw of 12 watts and 40,000-hour life. All the lamps produce no UV or Infrared Light, contain no hazardous materials and reduce CO2 emissions.
Lamp electronics and a heat sink design minimize heat output in the Accu SSL Par 30. With a CRI of greater than 82 and a Luminous flux from 450 to 540, depending on color temperature, this lamp has an L70 rating at 25,000 hours. An optical lens system enhances output with reduced visible glare of the LED sources, which are available in either 25° (spot) or 45° (flood) beam angle versions. The output is typically greater than 530lux or 50 foot candles at six feet with spot version, and greater than 110lux or 10 foot candles at six feet with the flood version.
Both the A19 and Par 30 offer a dimming range from 20 percent to 100 percent and work with most standard 120 V AC dimmers.
Designed for use in general lighting applications including recessed downlights, track lighting, spotlighting or direct lighting in both commercial and residential applications, the Accu SSL Series has RoHS design and UL, CE, and FCC approval ratings.
The MSRP is $39.95 for the Accu SSL MR16, $49.95 for the A19 and $99.95 for the Par 30 model. All the lamps are backed by Elation's three-year warranty and are in stock and shipping.
For more information, please visit www.elationlighting.com.
Leave a Comment: