Elation Design Panel 72IP MKII Outdoor LED Color Wash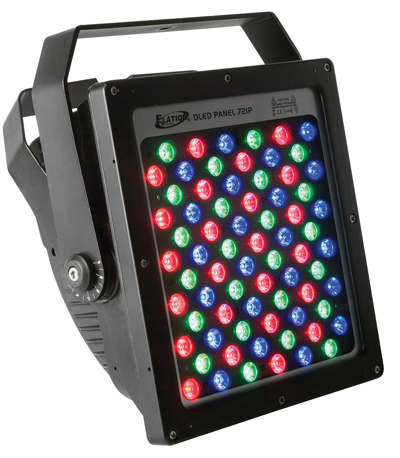 Elation Professional's Design Panel 72IP MKII outdoor LED color wash, a DMX-compatible RGB-mixing LED panel, has an IP 65 rating, allowing it to withstand rain and dust for building exteriors, landscaping, outdoor concerts, or any application subject to Mother Nature's whims. The brightest IP-rated color wash panel offered by Elation to date, the Design Panel 72IP MKII can also be used for indoor architectural and entertainment use, and for video and film production, too.
The fixture features 72 Luxeon K2 LEDs — 24 red, 24 green and 24 blue — each with 3 watts. Using a DMX controller, operators can create a wide range of color via linear RGB color-mixing, or run the panel without a controller in standalone mode, selecting from built-in color macros or one of the units eight internal 48-scene programs. Multiple panels can be linked Master-Slave with up to 16 units daisy-chained together for color washing large areas.

"Users of outdoor lighting are demanding greater brightness," said Eric Loader, director of sales for Elation Professional. "With its 3W LEDs, the Design Panel 72IP MKII is the highest output IP-rated LED color wash we have ever developed and one of the brightest you'll find anywhere. Its IP 65 rating makes it impervious to wet outdoor conditions. And its many design features, along with user benefits such as low energy draw, make it a great solution for a wide range of color wash applications, indoors or out."

The units also feature a 38.5°x53° beam angle and linear and standard dimming options for smooth color fades. The user can adjust onboard programs, and a built-in DMX record function adds to the control options, letting the units run stored programs created by an external DMX controller. The Design Panel 72IP MKII can be run in four DMX modes — 3, 4, 6 or 15 channels — depending on which features the user wishes to control.

The Design Panel 72IP MKII combines high output with relatively low energy use, consuming 250W with all LEDs at full. The low-maintenance LED lamps are also rated at 100,000 hours, and generate minimal heat.

To ensure complete protection from the elements, the Design Panel 72IP MKII comes with IP 65-rated power and DMX connectors. It includes a built-in 100V-240V switching power supply — a 277v operation unit is also available on special order. The panel has a versatile mounting bracket assembly that gives users the option of either standing it on a flat surface or hanging it on truss via a clamp in any safe position.

The Design Panel 72IP MKII weighs 26.5 lbs., and measures 14.8" x 13.4" x 7.8" with its bracket up. It has an MSRP of $2,999.95.
For more information, please visit www.elationlighting.com.
Leave a Comment: