Evo Hoist Controller by Kinesys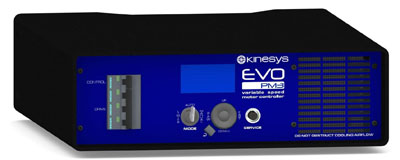 The Evo variable speed chain hoist controller from Kinesys is designed to comply with the BGV C1 life-safety standard and offers zero-speed performance for ultra-slow movement cues and instantaneous starts. An integrated loadcell provides precise load information while dual encoders offer accurate and secure positioning. A metal enclosure houses the controller, with truss and rack mounting options. Evo is compatible with Kinesys K2 software. Both one-ton 40-foot-per-minute and half-ton 80-foot-per-minute hoist options are available. The universal controller can be used with either size of hoist, motor-up or motor-down with no alterations required.
Currently, a Kinesys motion control system with 40 Evo zero-speed chain hoists, eight custom winches, and K2 3D software control package are on U2's 360° world tour, moving and shaping the transformable video screen that stretches and compresses under the control of 16 2-ton and 24 1-ton motors.
Kinesys motion control systems are distributed in North America by TMB. They can be seen at TMB's booth at LDI.
For more information, please visit www.tmb.com/products/kinesys.
Leave a Comment: