iRigging App from J.R. Clancy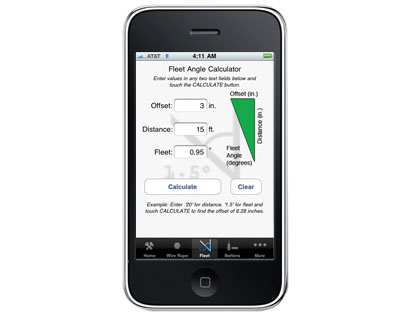 J. R. Clancy has turned its rigging slide rule tool into a free iPhone app, specifically for installers and users of theatre stage rigging. The new app, iRigging, also makes it easier for riggers to get the equipment data they need for proper installation and operation of manual and motorized rigging. iRigging delivers information about wire rope, batten loading, arbors, stage ropes, motors, fabrics, fleet angles, and more in English and metric units. It's easy to install and use from an iPhone or iPod Touch.
Wire rope data include:
Minimum sheave pitch diameter
Quantity of cable clips
Wire turnback for cable clips
Proper torque for cable clip bolts
Cable breaking strength
Nicopress sleeve crimp quantity and manual tool
Other data include:
Allowable fleet angles
Uniform and midpoint batten loading
Arbor capacity
Weight of counterweights
Recommended working loads for equipment
Motor current
Stage ropes
Weight of stage fabrics
The company invites users to provide feedback on possible improvements.
For more information, visit the App Store at iTunes and search for iRigging, or visit www.jrclancy.com.
Leave a Comment: