Mega Systems Unveils the RGBlink Venus X7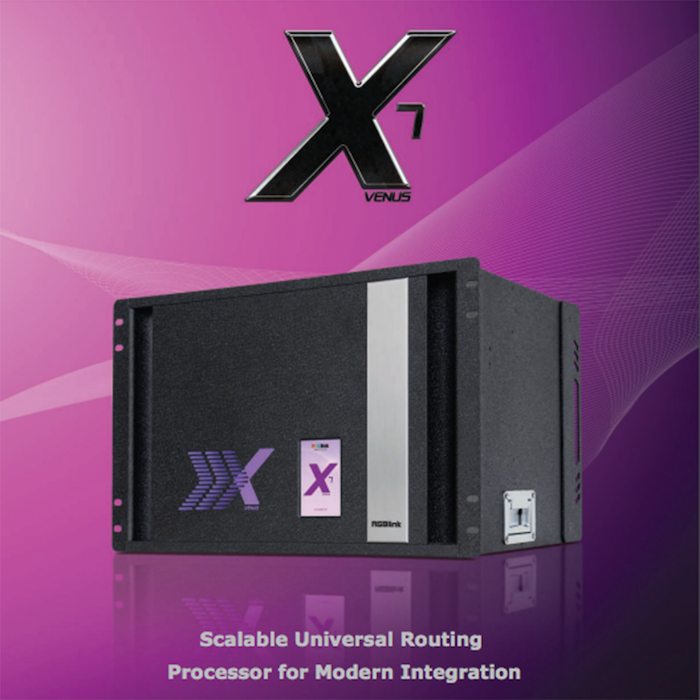 HELOTES, Texas- RGBlink introduces the Venus X7, an HDCP compliant, extendable routing and video wall processor that is configurable to support a variety of inputs, outputs and windowing capabilities. The Venus X7 features RGBlink's 3rd generation high performance video scaling technology for excellent image reproduction. With a modular design the SmartSlot system allows installation of up to 32 inputs and outputs. With an output capacity of a massive 64 mega pixels, the Venus X7 supports SDI, HDMI and DVI, as well as DisplayPort, VGA, and USB direct input.
More details from Mega Systems (www.megasysteminc.com):
Any input can be scaled, positioned, routed and transcoded to any output or be assembled as layers across outputs, giving you the freedom to customize it as you please. Built for intensive switching and routing applications, the modular design extends to all aspects of the VENUS X7 for a reliable and durable service.
Seamless switching 32 x 32 matrix / router
Display up to 128 layers
DSK and Chroma Key features
OSD text overlay feature for subtitling and messaging
Auto temperature control
Genlock built-in
Support scheduled power off/on and remote activation
Windows ® and Apple OS X® native software applications
Leave a Comment: