SGM Pilot 3000 version 2.0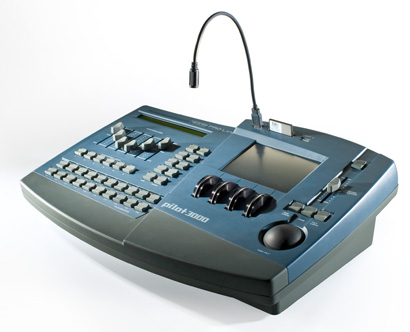 SGM announced that its Pilot 3000 software Version 2.0 supports additional cue storage systems and faster scene programming and management tools. The update is available free of charge to all Pilot 3000 owners and users. Version 2.0's internal operating architecture has been changed. In the previous structure, the Pilot 3000 software required the constant presence of a memory card for writing and reading the data regarding show files.
With Version 2.0, the data of the current show and fixture library are stored on the on-board memory of the Pilot 3000, enabling users to work without a compact flash card. The compact flash card can now be used exclusively for data storage and show backup.
Version 2.0 also includes a new programming tool, called "Fan," which lets users generate progressive "fan-type" variations for a given parameter, such as "color Magenta," on a series of several fixtures.
The latest version of Pilot 3000 also includes new controller playback modes:
The Group Master mode has been implemented to attenuate the lighting level of one or more groups of fixtures.
The Manual Cue mode has been upgraded. The slider now controls the crossfade between the current status of the console and the scene stored on the slider itself, allowing users to gradually modify scenes being played out.
Pilot 3000 can also now be controlled by means of MIDI communication protocol, which lets users have scene playback controlled by means of musical instruments, software or units using MIDI protocol as standard.
Version 2.0 also includes two new Cue storage modes (Snapshot and Controllers) for programming flexibility.
In addition, all the configured fixtures that use a CMY or RGB color-changing system can use four different sets of color palettes:
Rosco
Lee
Gam
Chris & James
Version 2.0 also includes separate systems for the total release of the Registers and the Controllers have been implemented.
Another new feature is the ability to control fixtures with inverted attribute functionality, made possible by setting the values Min and Max of an Attribute in the *.fxr file as 100% and 0%, respectively.
Version 2.0's new "Read" function also lets users import the current values of DMX output for all the fixtures selected directly to the Editor.
For more information, please visit www.sgm.it
Leave a Comment: