2007 Parnelli Lifetime Achievement Honoree Gerry Stickells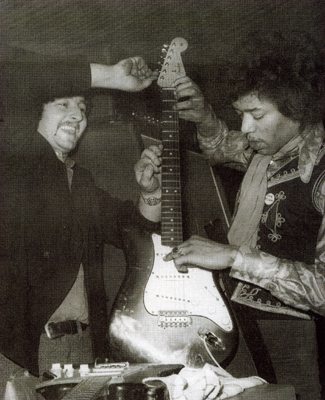 Production and Tour Manager for Jimi Hendrix, Queen, Pioneered the Tour Manager Position with Clear Head, Cool Hand
Stickells was one of the early innovating production managers and influenced the whole shape of gigging in the early years," states Brian Croft, recipient of the first Parnelli Lifetime Achievement Award in 2001. "He famously dealt with any logistic problems with great confidence and is admired by everyone he does business with to this day." The one-time small-town apprentice mechanic would become Jimi Hendrix's tour manager before there was even such a thing, and then go on to define the role for generations to follow. His work with Queen is legendary, as is his work in South America, a market that he largely helped open for rock acts in the 1980s. In 1977, he partnered with Chris Lamb and formed GLS Productions which, to this day, continues to set the bar in live concert production. Past and current clients include Elton John, Rod Stewart, Fleetwood Mac, Michael Jackson, ABBA, Paul McCartney and Ma-donna, among many others.
"The hallmark of his work is his presence as a human being," says tour manager Pat Morrow. "He would get the best out of his people. You couldn't help but love him and work hard for him. He's the best guy I ever worked for."
"Gerry never panics," adds Lamb, currently on Ricky Martin's world tour as tour manager. "He always keeps things in perspective, and it's always about the show. There's also no putting blame on people. If something goes wrong, it's simply, 'What do we have to do to fix it?'"

Becoming Experienced
Stickells was born in 1942 in the small town of Lydd, Kent, in southern England, one of 10 children. He left school at 15 and became an apprentice mechanic at a local garage, riding a homemade bike eight miles to work. By the early 1960s, his talent for keeping a van running made him the de facto driver for local bands. In November 1966, he was dreaming up a plan to be a bartender in Spain when he got a curious call from musician friend Noel Redding. Redding was going to play with an American guitarist named Jimi Hendrix who had arrived in the country a few months earlier, and they needed a roadie. The catch was that all their gear was stuck in customs at Heathrow Airport, and if Stickells could get it out, he could have the gig.
"I had never really even been to the airport before!" Stickells says of the odd opportunity. "And of course I had no idea what Jimi would become. Remember, he broke over in Europe first, about a year before he would play the 1967 Monterey Pop Festival. He had been playing in the U.S., but not getting very far. The Animals saw a show of his, and they were so amazed they dragged their manager, Mike Jeffery, to one of his shows. Jeffery then took him to England where he performed and recorded."
It would be at that Monterey Festival that Hendrix's career was established — and he wouldn't have even gotten on that stage if not for the insis-tence of fans like Paul McCartney and The Who.
"But that time before the festival, Hendrix played every night in Europe. That's how it was when you look at those itineraries. You just played and played." Stickells quickly became an important part of the team.
Stickells smiles as he recalls several great Hendrix stories. Once, two old-time Mitch Miller-era record label suits tried to hang out with Hendrix and the other stars of Monterey, but they were rebuffed for their squareness. A couple of days later, the same two guys tried again, this time wearing long-haired, ill-fitting wigs, thinking that's all it took to be part of the new hip scene.
Other anecdotes are less amusing. Stickells tells of Hendrix playing to sell-out crowds on Sunset Boulevard in L.A., only to be rebuffed at what was then the Gene Autry Hotel because of the color of his skin. Also, police sometimes refused to work security for his shows because they felt the way Hendrix played the "Star Spangled Banner" was disrespectful.
But it all came crashing down on September 18, 1970, when Stickells got an ominous call from a London character with the unfortunately accurate moniker "Terry the Pill." Hendrix had been found dead in a basement flat, and they needed someone to identify the body. Stickells obliged in what was not only one of the saddest tasks of his life, but also the nadir of pop music history as well. He flew the body of his friend and rock icon back to Seattle where Hendrix is buried today.
Stickells would run Hendrix's Electric Lady Studios for two more years before gravitating toward the West Coast with the rest of the live concert scene. Then he returned to the road with Three Dog Night, where he caught the attention of John Reid, who managed both Elton John and Queen at that time. "While I was with Three Dog Night, I was able to also work with both those acts for Reid," he says. "Funny thing — Three Dog Night was on the way down, Queen was on the way up, and Elton had been up, then down, and he was on the way back up again!"
A Champion
"There is no way to overstate Gerry's influence and importance to the live event industry," says Morrow. "To realize he did it in the dark days of Hendrix's time is even more impressive. There were no riggers, no accountants, and the venues bands played in were not set up for rock 'n' roll. Everyone was doing everything blind, and the contributions Gerry made… it's really astounding."
"I've known him for 30 years, and he's always been the same person," says Morrow, who is best known for his long association with Journey. "There is no bigger gentleman in the business, and everyone who has ever known or worked with him will tell you the same thing."
Morrow says Stickells and Lamb, as GLS, "pioneered the idea that a production manager needs to be five months, five weeks, five days and five minutes ahead of everyone else."
GLS (which stands for Gerry Lamb Stickells — the only combination of the founders' initials that wasn't already incorporated) "all started around 1976, when we worked so well on the Queen tour that we decided to form a company together a year later," Lamb explains. It would quickly be-come one of the most sought-after tour operations ever.
Tina Waters, today managing director of U.K.-based The Tour Company, which caters to the travel needs of such clients as Barbra Streisand, Oasis, the Eagles, and many others, started working for GLS in December 1978. "One of my first tasks was to handle Queen's guest list tickets for a show at the L.A. Forum — talk about getting thrown into the deep end!" she laughs. She tells the story of once "kangaroo hopping" a car with a clutch, that she was ill equipped to drive, all the way to the airport to pick up Stickells. She waited so long there that she convinced herself she had the wrong day. Right as she started to pull away, Stickells appeared. "He had come back from Japan with a huge amount of cash, and customs thought he was a drug dealer and interrogated him for a very long time!"
She says she owes a great deal of success in her current career to Gerry.
"I definitely learned a lot from Gerry," she says. "Gerry deciding to bring all our travel bookings 'in house' was all about logic. And it was working for him that I found what I really enjoyed doing — logistics and travel — which I'm still doing and enjoying 26 years later. It's not everyday you get to use Queen and Elton as your guinea pigs!"
Croft first met Stickells when his company, ESP Lighting, was asked to bid on handling the lighting on an Elton John European tour. "He came to our offices in London to talk about the bid face-to-face," he says. "That was his style. He liked to cut the deal without too much back-and-forth ne-gotiation. He had a good instinct for what the 'right' price was. Budgets were always his strong point. He didn't let you get away with anything on price, but neither did he beat you up on it. Everyone walked away happy, and there was a lot of respect from day one."
It was during this time that Stickells also met the man who would be the inspiration for the award that bears his name, Rick "Parnelli" O'Brien. "He quickly because Gerry's favorite crew chief," Croft says.
Also happening at this time was a chance meeting which would affect his life not only personally, but professionally: he met his future wife, Sylvia, at a New York club. She worked with him and became a respected member of the live event community. (Morrow only slightly exaggerates when he says, "Spend just a half hour on the phone with Sylvia, and she'll tell you everything you need to know about the biz!")

Conquering South America
In 1981, Stickells engineered a feat that was unthinkable back then.
"The biggest thing he did that helped this industry was breaking into the South American market," Lamb says. "When we took Queen there, that was a huge thing because it opened up those countries for everybody in the business, from guitar techs to production managers. It gave people a lot more work because now there was a place for bands to perform in the winter. The whole business profited from that."
In those days, it was a dangerous adventure: "First of all, Brazil was still in military hands," Stickells explains. "It was very authoritarian, and they were restrictive of who they let in to perform. But the people were getting a little restless, and they decided to loosen it up and have some shows to calm them down. Of course it had the opposite effect! It hastened the decline of military rule."
Despite setting up and performing with armed military personnel, "It was kind of a good thing — you could do what you wanted!" Stickells says with a grin. "For the 1985 Rock in Rio show, Rod Stewart showed up with his personal armed mini-military. Death squads were the norm, and it was pretty intense, but Queen got along okay down there because they were able to just get with the local flavor. Though there was always some-thing challenging. The second time we went down to perform, I was supervising setup, and there was no electricity. The government brought me a generator from World War II. It was pretty crazy."
At that first Rock in Rio, 1.4 million people showed up to hear an eclectic mix of performers including Iron Maiden, Yes, the B-52s, George Benson and Ozzy Osbourne, among others. It was there that Stickells also met his lifelong friend and colleague Luiz Oscar Niemeyer, who managed the continent's Hollywood Rock Festivals from 1987 to 1996. Stickells still works with him to this day.
"He Created Spectacular Shows"
Also in 1981, Stickells first worked with Michael Jackson, who was still performing with his brothers — an awkward time that required his finesse as they weren't cute kids anymore. Michael had done the successful Off the Wall solo album and "was trying to figure out who he was," Stickells says. That set the stage for Stickells to be involved as site coordinator in Jackson's successful and, by all accounts, wildly fun 1987 tour, where he worked with friend Edwin Shirley of Edwin Shirley Trucking and under production director Benny Collins. Then, Jackson "was huger than huge. It was quite a tour — it was the one everyone wanted to be on. Jackson was someone who didn't really have a normal family, and when he got out on the road, he liked to stay out there forever."
No matter what the tour, who the talent was, or what his specific job responsibilities were, Stickells always did everything with a pair of steady hands and a clear head — though he wasn't above ribbing those who didn't always have those virtues. Croft tells of when he was doing advance production for a huge one-off gig at Wembley for Queen in 1986, when he realized that the giant video screen wouldn't fit because Croft had re-ceived inaccurate building drawings. "I momentarily lost my nerve, and in the middle of the night, I called Gerry and screamed at him that unless we cut a chunk of the roof away, we'd have to push the abort button and not use the video.
"Gerry calmly said that not having the video just wasn't an option, and I needed to find a way out of it." With help from Henry Crallan and a clever use of specially fabricated crane slings, the screen went up. "When Gerry and Rick O'Brien arrived for the show the following day, they presented me with a tiny road case which they said contained this 'abort' button I had referenced!" he laughs.
"Gerry Stickells always had a lot of input into the way the show looked and was responsible for pushing us all into innovative engineering. He cre-ated spectacular shows."
In 1991, tragedy struck when news came of Freddie Mercury's death. As a member of the Queen family, it was yet another difficult time for Stick-ells. But he rose to the occasion and organized the Freddie Mercury Tribute in 1992.
For the rest of the 1990s, he kept busy working with many top acts, including McCartney. While Stickells knew him going back to the Hendrix days, they had never worked together until later in both their careers. "But he was quite well acquainted with Linda from the 1960s in New York, when she had done the famous shots of Hendrix in Central Park," Sylvia says. "So years later, when Gerry and Chris went down to Paul's studio to be interviewed for the job of managing his tour, Linda immediately piped up. 'Gerry I hope you're not going to say anything embarrassing about what I did during the '60s!'"
Stickells worked on McCartney's successful 2003 tour and was with him in Moscow for a show when Stickells suffered a small seizure. "Facing the prospect of Russian medical care, he opted to stay in the hotel and subsequently rallied — not only for the show, but for the rest of the tour," Sylvia says. But in 2004, he returned home to L.A., only to learn that the problem was a nonmalignant brain tumor. Shortly afterward, he under-went the first of two delicate and life-threatening neurosurgeries. "This was a very difficult period for him," says Sylvia. "But even so, he was able to function as a site coordinator for Chris Lamb on a Madonna tour that year." Most recently, he's been a consultant to Neimeyer in 2006 on the Stones' concerts in Brazil.
Reflecting on his long career, Stickells says: "Things were a lot looser in the 1970s — people wanted to play. These days shows are choreographed down to every note. You can make a good case that today a lot of problems in the business now are because it lacks spontaneity. If Hendrix went on three hours late, everyone was cool with it. If he wanted to mix up the set list at the last minute, it was great. Once, before he went on stage, he heard some of the Beatles were in the audience, and moments before he went on he quickly taught himself 'Sergeant Pepper's Lonely Heart's Club Band,' which had just come out, played it for Noel and Mitch Mitchell backstage once, and then they went out and opened with it. McCartney couldn't believe it.
"You wouldn't do something like that now — it would throw off the entire crew!"
"Gerry's integrity and honesty attracted fantastic loyalty from the band, management, and most of all, the crew," Croft says. "He was always gen-erous and fair. In return, he expected total loyalty and for everyone to pull together, especially when the going got tough. Queen trusted him im-plicitly. For a gig back in 1977, I remember him pulling out the checkbook and giving me an advance payment the minute we'd shaken hands on the price — no paperwork. We were working against the clock, and that could all come later. He didn't need to call any accountants and didn't need a second signature. He's always had everyone's respect."
"For understanding the human elements involved in a production, there never has been, nor will there ever be anybody better," Morrow says.
"Gerry and I are both very private people, and we don't do any of this other than because we love it," says Lamb. "It wasn't about the money, and certainly not about winning any awards….
"He's been a business partner, a mentor, a brother. He's been everything to me."
And everyone else he's worked with.
Stickells will receive his Parnelli Lifetime Achievement Honor Nov. 16 in Orlando during the LDI show. For more information, go to www.parnelliawards.com.
Leave a Comment: