2011 Tim Hortons NHL Heritage Classic Uses GoVision-Supplied LED Wall, Ribbon Boards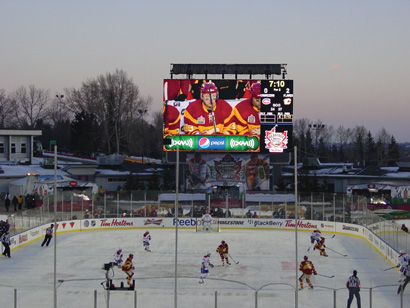 CALGARY, AB – Daktronics rental partner GoVision provided a large-screen LED video wall and ribbon board displays to support the 2011 Tim Hortons NHL Heritage Classic, held Feb. 20 at McMahon Stadium. Both gear and crew weathered the outdoor conditions and single-digit temperatures. "The Heritage Classic was quite an undertaking, which required our on-site team and our equipment to perform under the most extreme conditions," said Chris Curtis, CEO of GoVision, L.P. "But, as always, they rose to the challenge and delivered flawlessly."
GoVision was hired by BaAM Productions to construct the 34-by-60-foot video wall inside the stadium to give fans a better view of the outdoor action between the Montreal Canadiens and host Calgary Flames. The screen also offered clear views of the musical acts featured during the event's annual celebration of hockey's Canadian roots.
The video wall was assembled from the same Daktronics PST-12HD panels installed in the outdoor plazas of Cowboys Stadium in Arlington, Texas. GoVision dismantled the screens immediately after Super Bowl XLV and shipped them to Calgary for the Heritage Classic.
The Argyle, TX-based company also installed LED ribbon boards around the stadium, which were used to promote the event's sponsors. The three-foot-high Daktronics PST-12HD boards were similar to the configuration GoVision used at the 2010 NBA All Star Game in Dallas, and the NCAA Final Four in Indianapolis.
For more information, please visit www.jumbo.tv and www.daktronics.com/mobilemodular.
Leave a Comment: