5 Star Designs Custom Cases for Paragon Projection's Christie MicroTiles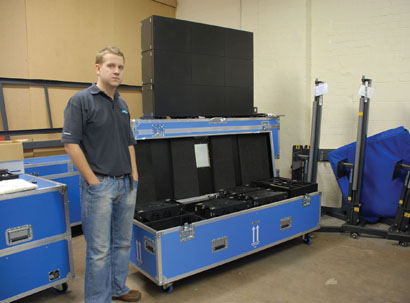 WISBECH, UK – 5 Star Cases has provided a new custom flightcase for Paragon Projection, a provider of professional display equipment for exhibitions and training seminars. The new case was designed for Paragon Projection's new inventory of Christie MicroTiles. Paragon Projection, based in Hednesford, Staffordshire, a long-time 5 Star client, has ordered variety of cases for plasma and LCD screens, projectors, lenses and accessories over the years. Paragon's Mark Davies contacted 5 Star to create a custom case for the company's new rental inventory of 60 Christie MicroTiles.
The brief was to house six tiles, the associated mounting hardware, accompanying ECU control unit and the front display screens, which are detachable from the tile itself, and need to be handled carefully.
A separate removable tray was designed in the case to safely house the six screens. This lightweight tray slides into the end cavity of the main flight case. It's made with lightweight carpet covered 4mm birch plywood, with suedette-covered polyethylene foam protections for the actual screens.
Once the tiles are rigged and tested, the technician can then safely take the screens in the removable tray over to the tiles, safeguarding these delicate elements until they are safely attached to the tiles.
The trunks are made from 5 Star's rugged Tour Grade specification materials and feature individual compartments for the six MicroTiles plus the removable screen trays. So far, 10 6-way trunks have been supplied to Paragon.
"We like projects like this which require lateral thinking in the design process and plenty of attention to detail," said 5 Star MD Keith Sykes. "It's always good developing and building a relationship over a number of years, and one of the great things about Paragon is that every project is different and brings its own set of challenges."
Sykes pointed to a previous case in point: to house Paragon's Panasonic 103" plasma screens, each weighing in at a quarter of a ton. To date, 5 Star has supplied 132 shock-mounted cases for Paragon.
For more information, please visit www.5star-cases.com.
Leave a Comment: