Analog Way AV Processors Manage LED Screens at the 17th FINA World Championships in Budapest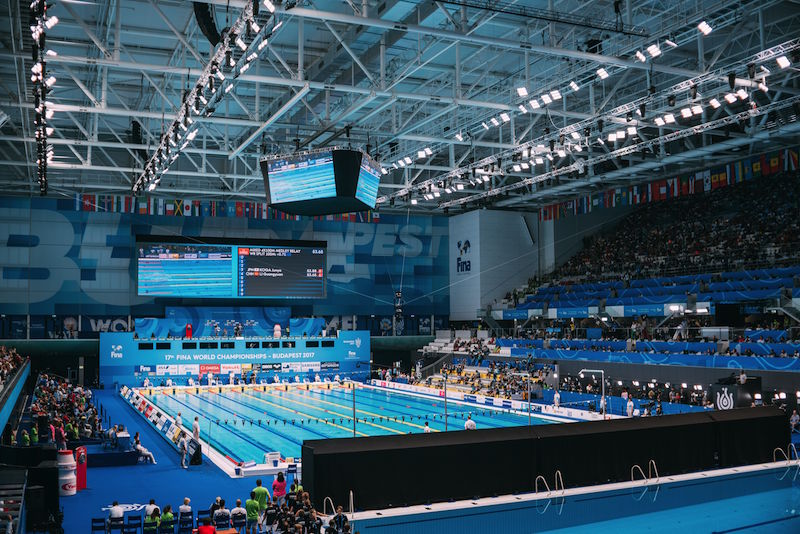 BUDAPEST – When the 17th FINA World Championships and World Masters Championships, the biennial aquatics and water sports competitions, were staged in Budapest, Hungary, an array of Analog Way AV processors made a splash managing multiple LED screens in different locations through a single system. Giant Unilumin LED screens were mounted in five sports venues and were integral to every competition. AV Spring Ltd. supported the operations team with engineering plans for the AV systems and provided technical training for key personnel.
More details from Analog Way (www.analogway.com):
"The main challenge was putting together the newly bought AV devices so they would work seamlessly as one system," explains Julianna Szoke, Operations Manager for AV Spring. "Analog Way equipment was the best fit for our client's technical needs, such as low latency, high number of inputs and outputs, and great ease of use."
At Lake Balaton the team managed four 15-20 square-meter LED screens positioned inside and outside the lake with Analog Way's NeXtage 08-4K, a powerful, seamless AV processor based on the LiveCore platform.
The biggest venue was the new Danube Arena where two Analog Way Ascender 32-4K multiscreen processors with output expanders, also based on the LiveCore platform, managed the 600 square-meter LED walls. "This venue had three big screens at the end of the pool, four hanging from the middle, and 4-4 hanging in front of the spectators and on multiple perimeters around the pool, the audience and the gates where the swimmers entered," she explains. "It was very helpful that the Ascenders could be controlled from a simple browser and had a huge range of inputs and outputs."
Other Analog Way gear deployed for the championship included the Pulse 3G high-resolution seamless switcher, the Vertige premium remote controller, the RK-350 remote control keyboard, and control box.
"We had good experiences using the browser, shot box and iOS application," says Szoke. "The user interface is really intuitive and the management of inputs and outputs was really easy with the thumbnails and easily identifiable plugs."
She reports that, "the Analog Way products were reliable and stable even when running for days with almost all inputs and outputs in use. Analog Way support helped us resolve any issues we ran into from time to time."
Leave a Comment: