Broadway-Bound "Bus" Lit with Nearly 30,000 LEDs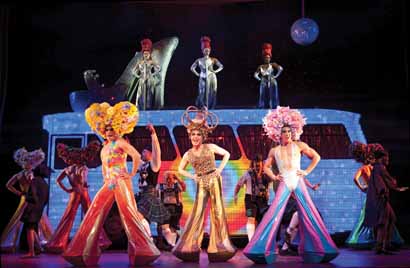 NEW YORK – In Priscilla: Queen of the Desert, which opens on Broadway for previews Feb. 28, 2011, the musical's visual focal point is the show's namesake: a roving set piece done up as a tour bus, emblazoned with Traxon Technologie's String RGB fixtures – nearly 30,000 LEDs in all. The musical was inspired by a 1994 Australian film, The Adventures of Priscilla, Queen of the Desert, which chronicled a journey made by two cross-dressers and a transsexual across the Australian outback.
The photos here are from the show's run at the Princess of Wales Theater in Toronto from Oct. 12-Nov. 28, 2010. The same set piece – not an actual bus – will be used on Broadway, according to Jeff Shepherd, Head of Design/Lead Project Engineer at Traxon & e:cue.
Shepherd also noted that there are about 1,100 32-node String RGB fixtures on the bus, with each node fitting snugly into holes in fiberglass mounting panels.
On the bus itself, "a coolux media server feeds a DVI signal to a DVI splitter, which duplicates and sends the signal out to nine e:cue Video Micro Converters," Shepherd added.
"Each VMC then divides the converts the signal to e:pix," referring to e:cue's high-density lighting protocol, "and sends it out to the pixel distributors – three per VMC output, 24 per VMC. Each pixel distributor then sends data and power to the LEDs."
These videos were taken of the production that ran in Toronto last fall: http://www.youtube.com/watch?v=qL1W9DhRZAE&feature=player_embedded.
For more information, please visit http://www.traxon-usa.com/usa/en/index.php.
All photos accompanying this posting were of the Toronto production. Photos by Joan Marcus.
Leave a Comment: