College Basketball Teams Get Visual Support from GoVision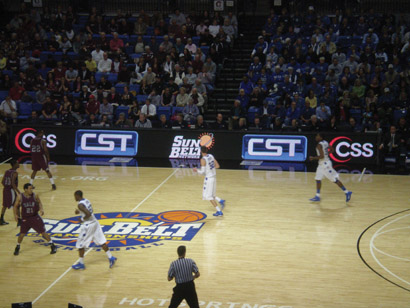 ARGYLE, TX – GoVision is providing visual support in the form of LED video screens for a variety of college basketball events, with its custom-built LED screens being used in Atlanta, Nashville, El Paso, Hot Springs, AR, Garland, TX and for the NCAA Final Four Men's Basketball Championships in Houston. SEC Men's and Women's Tournaments
GoVision installed 3-by-60-foot LED scoring tables comprised of Daktronics PST-12HD tiles to run sponsorship content, game statistics and other graphics throughout the Southeastern Conference Men's Tournament held in Atlanta's Georgia Dome. In addition to displaying sponsor and team logos and other graphics, GoVision is presenting real-time game data fed by the SEC. GoVision provided the same service during the SEC Women's Tournament in Nashville.
Conference USA Tournament
GoVision provided two 9-by-16-foot LED scoreboards, powered by a Daktronics Sports Controller, for the Conference USA Men's Basketball Tournament in El Paso, TX. GoVision's template-enhanced LED screens display scores, statistics and sponsor content in real time. The company is also providing and servicing the tournament's shot clocks.
Sun Belt Conference Tournament
GoVision provided a 12-by-16-foot LED video screen for the Sun Belt Conference Tournament at the Hot Springs Convention Center Arena in Hot Springs, AR. The screen offered fans views of the live game action, replays and sponsor advertising. GoVision also installed 3-by-40-foot LED scoring tables made from Daktronics tiles and formatted content and graphics supplied by the conference and its sponsors.
SWAC Tournament
A similar setup is in place for the Southwestern Athletic Conference Tournament in Garland, TX, where GoVision configured 3-by-40-foot LED scoring tables showing game statistics, conference and sponsor graphics.
NCAA Final Four
For the third consecutive year, GoVision's screens will be deployed for the NCAA Division 1 Men's Basketball Championships in Houston. A 30-inch-by-50-foot sideline board, made from 6 mm LED tiles, will be installed between the two team benches at Reliant Stadium during the NCAA Men's Final Four tournament. The board will display player headshots and statistics, sponsor graphics and other game content.
"We're proud to earn the NCAA's business again at their most-watched sporting event, and very excited to add so many conference tournaments to the mix this year as well," said Chris Curtis, CEO of GoVision. "Our LED scoring tables and sideline boards have become a huge hit with our clients in the sports industry, which has enabled us to expand the scope of our service offerings to this important segment."
For more information, please visit www.jumbo.tv.
Leave a Comment: