Colombian Fountains Feature LED Lighting, Projection, Lasers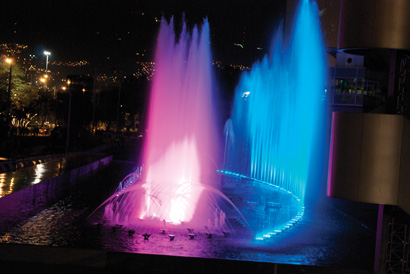 MEDELLIN, Colombia – Georgia Fountain Company's Vida and Interactivas fountain projects here relied on subcontractor MediaMation, Inc. (MMI)'s Virtual Fountain 3D visualization software and ShowFlow software for programming and control. The more elaborate Vida fountain uses 224 RGB LED fixtures to light water from more than 850 fountain jets. The water feature also is equipped with CO2 powered water cannons and water-based fog systems for swaying patterns rising up to 30 meters skyward.
Vida's visuals also include a 15-meter-radius "wall of water" effect with projected video from a Barco FLM HD14, which is a 1080p HD, 14,000 lumens three-chip DLP projector, and laser-animated logos from a 10-watt LPS RGB laser system.
Interactivas, which invites visitors to run through the fountain jets to cool off on a hot day, is located about a mile away. Interactivas features 395 RGB fixtures and more than 300 jets.
For more information, please visit www.mediamat.com.
Leave a Comment: