Colombia's Bicentennial Includes Projections Totalling 390,000 Lumens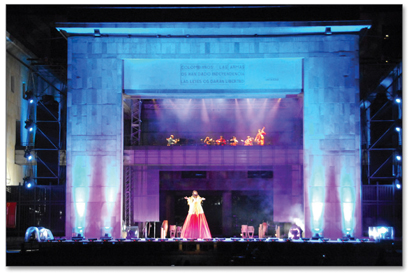 BOGATA – Colombia's 200th anniversary celebration at Plaza de Bolivar was hard to miss, with Sonic Design coordinating projections adding up to 390,000 lumens onto Colombia's National Capitol, Justice Palace and surrounding buildings with audio from Adamson gear emanating from alternating sides of the plaza.
The event, which also included musicians, dancers, horses in body armor, flag-bedecked aerialists and a 20-minution finale with projected visuals from Diorama and Brash 3D culminating in a fireworks display.
It was produced by Festival Iberoamericano de Teatro, Areavisual and Sonic Design. Dussan, Chamorro, Moving Lights and Sonic Design provided lighting gear. Sonic Design also provided all video servers and projection. Monarca Shows provided fireworks.
Colombia's president Alvaro Uribe and Bogota's mayor Samuel Moreno attended the televised event, which was also recorded live for a future DVD release.
Leave a Comment: