First New Jersey Fashion Week Uses Video Wall Display from Sharp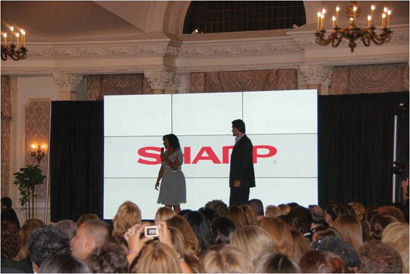 WEST ORANGE, NJ – Jersey Shore's Snooki wasn't there, but Dina and Caroline Manzo from The Real Housewives of New Jersey were, along with the cast of Jerseylicious. Even so, the founders of the first New Jersey Fashion Week managed to sidestep reality TV's in-your-face orange-tan stigma in favor of a more elegant look at New Jersey hairstyles and other fashions, with an assist from a video wall backdrop for the event provided by Sharp.
While the focus was on elegance, the event still wasn't as hoity-toity as the better-known New York Fashion Week staged across the Hudson – it was open to the public and touted up-and-comers, not just established names in the fashion world.
"When I initiated New Jersey Fashion Week in December 2009, my goal was to create opportunities for emerging designers to showcase their collections," said Donnella Tilery, who co-founded the event with Panico Salon and Spas owner Jack Panico.
"It took us a long time to find the people we'd need to make this venture successful, and we were determined to organize New Jersey Fashion Week according to the industry's high standards," added Panico.
The event had big retail sponsors, including Lord & Taylor, a runway, many local designers and a private venue to hold the event. Then, Tilery met with executives from Sharp who presented ideas for the integration of a video wall display as a runway backdrop.
"Sharp supplied a massive video wall which was one of the key elements that made New Jersey Fashion Week so successful," said Tilery. "Having a well-known company as a sponsor shows credibility, and a state-of-the-art display that showcases the fashion lines and the names of the designers, further promotes the brands and New Jersey Fashion Week itself. I honestly can't even imagine having a fashion show without a video display any more – it's definitely the way to go!"
The video wall was used to display pre-produced content such as short video profiles of the featured designers that offered information on their backgrounds, unique styles and fashion philosophies. During the show, designer names, logos and fashion house branding were displayed as the models strode the catwalk. Show organizers were also able to run a live HD camera feed during the show to provide close-up and detailed views of the models' fashions, hair, makeup and accessories.
In less than four hours, Sharp created a custom-built 3 by 3 video wall system which consisted of nine 60-inch class PN-V601 panels that measured 7.5 feet high and 13 feet wide, with a total diagonal measurement of 180 inches. The total resolution of the video wall was 4098 x 2304 pixels.
Sharp calls the PN-V601 the flagship model in its series of professional LCD monitors, with the thinnest bezel – just over 1/8 of an inch in a 60-inch diagonal screen class LCD video wall configuration – making it well-suited for a seamless flow of images, regardless of the overall size of a multi-panel display.
Sharp also touts the full LED backlight display for its consistent light distribution with LED elements that are positioned across the entire panel directly behind the liquid crystal layers, providing deep blacks and vivid and bright images.
Other PN-V601 features including a Zoom Display Mode, which allows for a single image to be stretched across as many as 25 monitors, and a Frame Width Adjustment function, which reduces misalignment and helps enhance the enlarged image in a multi-screen display.
In addition, the monitors come equipped with DVI-D input/output, component video input, S-video input, LAN display control and stereo speaker output.
To complete the New Jersey Fashion Week video wall, Peerless Industries provided the stands and mounts, Jupiter Systems supplied a PixelNet video wall processor and the NJ Institute of Technology assisted in the installation.
"This was a great opportunity for us to showcase a real world video wall application," said Steve Brauner, senior product planning manager from Sharp Electronics. "Our teams had only four hours to set up the installation, which certainly was a challenge, but with the PN-V601's design, careful planning and execution, everything went smoothly. We are always ready to do something unusual that few in the industry would attempt and the final result was definitively worth the effort."
The Sharp video wall display lit up the runway and for two days designers showcased their fashion lines. The first day opened with a cocktail reception and focused on the latest hair and makeup trends. The second day's events focused on fashion and accessories.
New Jersey Fashion Week donated $5,000 of the event's proceeds to support breast cancer research and awareness. The event, which was streamed over the Internet, was also featured on MSNBC and Fashionista.com.
"The first New Jersey Fashion Week was a huge success," said Panico. "We are already thinking about the show next year, and several companies have approached us with partnership opportunities. I am so grateful to have the support of companies like Sharp, and I hope to have the chance to work with them again."
For more information, please visit www.sharp-world.com.
Leave a Comment: