Gateway Church Campuses Equipped with Riedel MediorNet, Artist Systems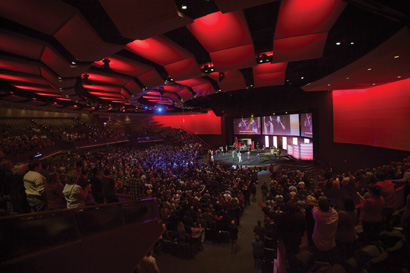 SOUTHLAKE, TX – Systems integrator Beck Associates provided a MediorNet fiber network backbone and an Artist digital matrix intercom from Riedel Communications for Gateway Church, creating a fiber-based, real-time network for 3G/HD-SDI video, audio, data and communications for the church's three separate campuses. The new system, with five MediorNet mainframes at its heart, offers a true fiber-based real-time network approach that goes beyond single point-to-point links, and it is already actively handling the distribution of all signals during church services, including HD video signals between the different campuses and chapels.
Beck Associates also installed a combination of one Artist 62 and two Artist 32 digital matrix intercom mainframes for communications between all three campuses. They provide the connection for a large number of Artist control panels of the 1000, 2000 and 3000 series. The Artist infrastructure is also distributed via the MediorNet fiber network, further reducing cabling efforts.
Designed with a modular approach Artist systems can be expanded to form infrastructures with up to 1,024 by 1,024 non-blocking ports if needed.
For more information, please visit www.riedel.net.
Leave a Comment: