Gaylord Opryland Reopens with Support from GoVision LED Screens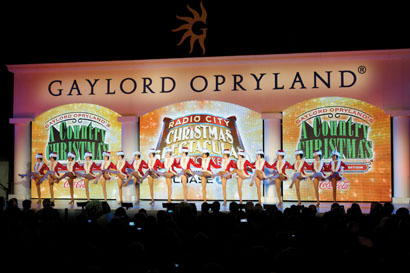 NASHVILLE, TN – In early May 2010, the banks of the Cumberland River overflowed, flooding of the city of Nashville and the 3,000-room Gaylord Opryland Resort & Convention Center. Six months later, thousands of meeting planners, convention organizers, travel industry leaders and dignitaries gathered here to celebrate the grand reopening of the Gaylord Opryland with a three-day series of events that showcased both the resilience of the city and the re-birth of one of the world's leading convention hotels.
The event's visuals were amplified with a wide array of LED screens provided by Argyle, TX-based GoVision LP.
The main event, held in the hotel's Delta Atrium, featured dancers hoisted above the crowd on wires with an indoor fireworks pyrotechnics display, all choreographed to a variety of musical scores.
GoVision integrated four types of LED screens into the show, including a 15-by-40-foot main screen comprised of Daktronics HD12 LED boards; two 9-by-16-foot remote HD12 LEDs; a 20-foot diameter cylinder of Winvision 1875, which was raised and lowered throughout the show; and eight shared effects elements constructed with Barco MiTrix panels.
In addition, GoVision incorporated three new 13-by-13-foot Pix20 Rollup LED screens into the annual Lighting Ceremony for the resort's "A Country Christmas" attractions. The screens rolled up to let the Rockettes and other entertainers make a stage entrance, then rolled back down to serve as a HD video backdrop.
At the end of the show, the screens rolled up completely to provide an unobstructed view of the hotel illuminated in the background.
(Highlights of the lighting ceremony can be seen here: http://www.youtube.com/watch?v=oWNR_52CJmM )
"The Gaylord Opryland reopening was about as elaborate a production as you could imagine, which allowed us to get extremely creative with the types of cutting-edge technologies we used at the various events," said GoVision CEO Chris Curtis. "We deployed flat panels, wrap-around boards, cylindrical and rollup LEDs, and just about every type of equipment and configuration possible to help deliver some absolutely extraordinary images."
The event was organized by Corporate Magic.
For more information, please visit www.jumbo.tv, www.corporatemagic.com and www.GaylordOpryland.com.
Leave a Comment: